Police fire tear gas at protesters in Khartoum North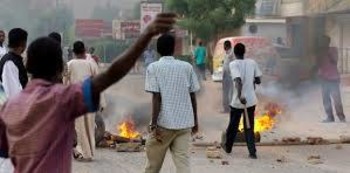 Sudanese police fired tear gas at anti-government protesters in Khartoum after opposition groups and the coalition of Sudanese professionals called for nationwide protests.
Angry citizens have taken to the streets in the capital and other cities since 19 December after a government decision to raise prices of bread.
Crowds of anti-Bashir protesters chanted "Freedom, Justice, the people want the downfall of the regime" in the capital's district of Khartoum North, but were confronted by police forces, witnesses told Radio Tamazuj.
Several activists said shops in Saad Gishra Market were closed as crowds started their protests against President Omar al-Bashir. They pointed out that there are running battles in neighborhoods as riot police started using tear gas and live bullets to disperse the protests.
Protests also broke out in war-torn region of Darfur where hundreds of protesters in Al-Fasher and Nyala towns chanted slogans against President Omar al-Bashir. Today's Anti-Bashir protests also rocked Wad Madani and other areas.
Sudan's top Islamist party, a member of President Bashir's government, called on the government not to use lethal force against protesters during the weeks-long demonstrations.
Idris Suleiman, political secretary of the Popular Congress Party (PCP), has decried use of excessive force against peaceful protesters. "If violence against protesters continues, we might take a decision," he warned.
Talal Ismail, a Sudanese political analyst, expects large demonstrations to continue across the country after the government failed to find quick solutions to the ongoing economic crisis.
Bashir, who came to power in a military coup backed by Islamists in 1989, has remained defiant amid fears of unrest in the country.
Protests that first erupted last month over a government decision to raise the price of bread have swiftly escalated into anti-government demonstrations.
The government says at least 24 people have been killed during the protests but Amnesty International has put the death toll at 40.