Police arrest 16 suspects over children's murder in Juba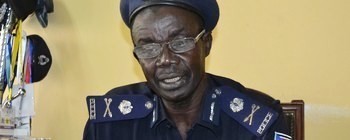 File photo: Police Spokesman Daniel Justin
Police said they have arrested 16 suspects, including women, for investigations over the gruesome murder of three children in Juba last week.
Tragedy struck the family of Edward Jami Andrea on Saturday when an unidentified person slaughtered three of their children.
The incident occurred in the Rock City area of Juba at about 4 p.m.
The murder of the three siblings has sparked a public outcry among South Sudanese.
"We are holding 16 people, including women and relatives of the family of the murdered children as well as construction workers who were working near the home where the crime occurred," South Sudan police spokesperson, Daniel Justin Boula, told Radio Tamazuj on Monday.
He said 70 percent of the investigation work has been completed, adding that police will continue to work with the investigation team.
President Salva Kiir Mayardit on Monday described the murder of the three little children at Rock City on Saturday a "heinous crime".
The president directed law enforcement agencies to use every tool at their disposal to quickly apprehend and bring the suspect to justice.