'Plot' in Khartoum: timeline of events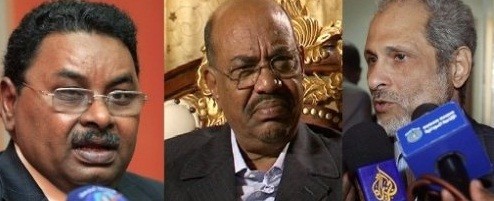 Arrests before dawn last Thursday against former commanders and security officials in Khartoum foiled a 'subversive plot,' officials disclosed late last week.
Revelations in the days following the arrests suggest a power struggle at the core of the regime and its guiding organ, the semi-official Islamic Movement. The plot never reached to the level of an active military coup but allegedly involved some of the regime's top insiders.
Divisive ideological and practical differences in the regime were apparent for some time as the government struggled to stabilize the economy, battle the Sudan Revolutionary Front and ward off defections to the opposition Popular Congress led by the regime's former 'guide' Sheikh Hassan al-Turabi.
The Islamic Movement conference two weeks ago provided a forum for deliberation on these issues as well as an opportunity for political manoeuvre. The conference, the eighth of its kind, has been held regularly since al-Turabi left the ruling party. His party was again the most significant Islamist group to boycott the event this year.
Disappointment in this year's conference in some quarters was not unexpected, but the open power struggle that emerged last week was uncharacteristic of the ruling party, whose internal debates are normally obscured to outsiders.
Some observers have questioned whether news of the plot was not engineered for propaganda reasons, while others have called for release of the accused plotters or fair treatment before the law.
The below timeline is compiled from press reports:
14 November – President Omar al-Bashir returns to Khartoum after undergoing throat surgery in Saudi Arabia for a 'benign tumor'.
14-17 November – The Islamic Movement conference is held in Khartoum. Ghazi Salah al-Deen al-Attabani, head of the NCP parliamentary block, withdraws his candidacy for secretary-general. The outgoing secretary-general and Sudan's vice-president Ali Osman Taha is replaced by al-Zubair Ahmed al-Hassan, a former finance minister.
15 November – Plotters initially set this date for launching their attempt, before they decided to postpone for one week, according to the information minister Ahmed Bilal Osman.
22 November, 12:00 a.m – Tanks and armoured vehicles roam the Obeid Khitm road, south of the Kober bridge in central Khartoum, where many top officers reside including the president and vice-president.
22 November, 1:00 a.m. - 5:00 a.m. – Alleged coup plotters are arrested, including former security chief Salah Abdallah Gosh, the intelligence general Adil Al Tayeb, the war hero and popular Islamist 'Wad' Mohamed Ibrahim, and at least 12 other high-ranking army and security officers.
22 November, 5:00 a.m. – The Sudanese Media Center (SMC) website runs a statement acknowledging the arrests. The site, which is widely believed to be run by National Intelligence and Security Service, alleges the involvement of unnamed opposition figures.
22 November, morning (?) – Former presidential adviser and head of NCP bloc in parliament Ghazi Salah al-Deen al-Attabani is summoned for questioning by the security service but is later released. He later issues a press statement denying having been questioned in connection with the plot.
22 November – NCP figure Rabie Abdel-Aati appears on Dubai-based Al-Arabiya TV and suggests that among those arrested is Major General Kamal Abdel-Ma'rouf, the commander at operations in Heglig earlier this year. The army spokesman later denies this.
22 November – Information Minister Ahmed Bilal Osman calls a press conference to give the official version of events. He says 13 people were arrested but names only Salah Gosh, 'Wad' Mohamed Ibrahim, and Adil Al Tayeb from the NISS.
22 November – Uncorroborated reports suggest other detained plotters include that the former head of military intelligence Awad Mohamed Ahmed Ibn Ouf, former head of Sudan's armoured corps Sideeg Fadl, and another top commander Fateh al-Raheem Abdulla.
22 November – Islamists respond to the arrests in online forums, some calling for release of the detainees. The al-saihun ('travelers') group slams the defence minister Abdelrahim Mohamed Hussein for stirring trouble with commander of the armoured corps Sideeg Fadl.
23 November – Shops open as usual before Friday prayers and streets appear calm.
23 November – Parliament lifts the immunity of ex-spy chief Salah Gosh, newspapers report.
Photos, left to right: Salah Gosh, Omar Al Bashir, Ghazi Salah al-Deen Al-Attabani.