Plane crashes in Jonglei, killing all on board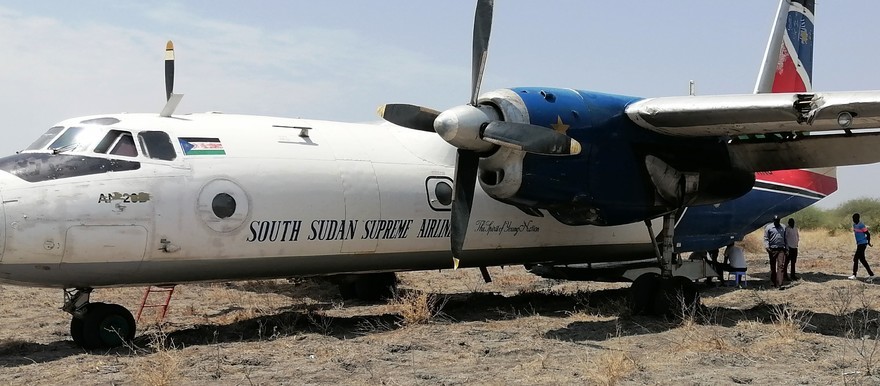 A cargo plane appears to have gone off of a runway at Renk airstrip on June 6, 2020. (Radio Tamazuj photo)
A small plane crashed on Tuesday evening shortly after takeoff from Pieri airstrip in Uror County of Jonglei State, killing all 10 people on board, a local official said.
Pal Mai, a senior member of the Sudan People's Liberation Movement-In-Opposition (SPLM-IO) in the area, told Radio Tamazuj that the victims include two pilots.
Pal said the aircraft (HK-4274) belonging to local company South Supreme Airlines was en route to Yuai town, the headquarters of Uror County. He revealed that the plane was chartered by business people.
"It came from Juba and landed in Pieri at 3: 30 pm. And then it took off at 4: 30 pm, it was supposed to go to Yuai before proceeding to Juba. But shortly after it took off, it crashed killing all the 10 people on board," he explained.
The SPLM-IO official says they are "deeply saddened by the tragic loss of life" following the plane crash that killed everyone on board.
The cause of the crash remains unclear.
Ayii Duang Ayii, the general manager for South Supreme Airlines, said: "Yes, we had a plane that left but it had not returned until now (7: 30 pm). Those at the airport said no plane has come but it was supposed to come back to Juba this evening. So, we do not know what happened."
Kur Kuol, the general manager of Juba International Airport, said he has not yet received a report on the incident.
Several planes have crashed in recent years in South Sudan.
In August 2020, eight people lost their lives, while a single passenger survived with injuries when a cargo plane crashed into a farm in the Kemeru area minutes after it took off from the Juba International Airport.
In 2015, 36 people were killed when a Soviet-era Antonov plane crashed just after takeoff from Juba.
In 2017, 37 people had a miraculous escape after their plane hit a fire truck on a runway in Wau before bursting into flames.
19 people were killed in 2018 when a small aircraft carrying passengers from Juba to Yirol crashed.