ADDIS ABABA -
26 Feb 2018
Peter Gatdet says he would 'rather stay in the bush' than sign shaky peace deal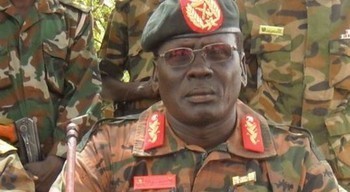 File photo: General Peter Gatdet
A top South Sudanese rebel general who is currently leading his own opposition group said that he would rather stay in the bush than have to accept a shaky peace agreement.
"The issue of leadership was the reason why the peace talks ended with any results. The current leadership has failed, so we don't want to sign an agreement that will be violated again," Peter Gatdet, who commands a group calling itself South Sudan United Movement, told Radio Tamazuj today.
He called on the country's president Salva Kiir to step down, while accusing him of failing to lead the people of South Sudan. General Gatdet said the opposition wants to address the root causes of the ongoing civil war.
"The people of South Sudan are suffering because the leadership has failed. We would rather remain in the bush than have to accept a shaky peace agreement," he said.
The South Sudanese rebel commander stressed the need for radical solutions to the ongoing conflict while calling on the international community to make the tough decisions to bring about peace in South Sudan.
Gatdet, a leading rebel commander on both a U.S. Treasury Department sanctions list and a U.N. blacklist for his role in the unrest, said the current government is to blame for the collapse of the second round of peace talks.
He urged the country's leadership to accept peace so that the suffering of all South Sudanese can come to an end.