Peter Gatdet expresses pessimism on South Sudan peace process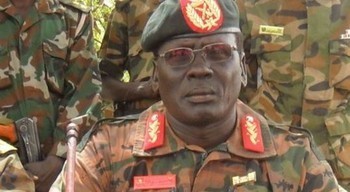 File photo: General Peter Gatdet
A top South Sudanese rebel general who is currently leading his own opposition group expressed little optimism on the revitalization forum of the 2015 peace accord in Addis Ababa, Ethiopia.
"There are violations of the agreement we signed in Addis Ababa. The current government comprises of groups that are trying to spoil the peace process," Peter Gatdet, who commands a group calling itself South Sudan United Movement, told Radio Tamazuj today.
He called the recent ceasefire agreement signed by rival South Sudanese groups, an "unhelpful step," but said the East African regional bloc IGAD failed to monitor ceasefire violations.
"IGAD is unable to monitor the signed cessation of hostilities agreement. Those people of IGAD know very well those who are violating the agreement but they are unable to hold them accountable. The government has been attacking defensive positions of the rebels," he said.
The South Sudanese rebel commander stressed the need for solutions to the ongoing conflict while calling on the international community to make the tough decisions necessary to make peace.
Gatdet, a leading rebel commander on both a U.S. Treasury Department sanctions list and a U.N. blacklist for his role in the unrest, said they do not have prisoners of war and child soldiers from their side.
Article 8 of the cessation of hostilities deal says each party should unconditionally release all prisoners of war, political detainees and abducted women and children to the International Committee of the Red Cross (ICRC) without delay.