Peacebuilding minister optimistic about chances of peace implementation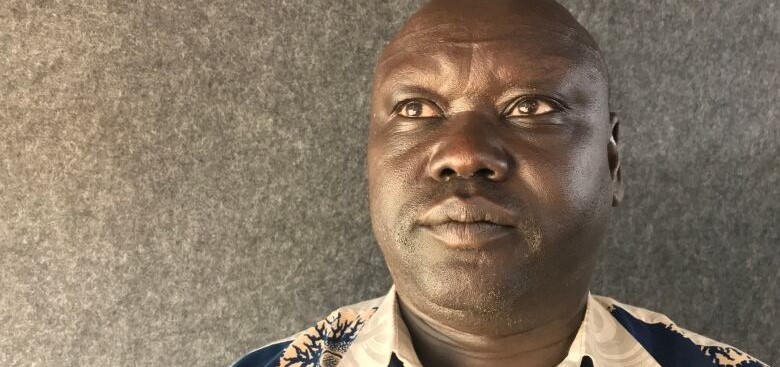 Stephen Par Kuol (David Bell/CBC file photo)
A South Sudanese minister expressed optimism on Sunday over the chances for the successful implementation of the revitalized peace deal, despite missed key deadlines.
"We have lagged behind in so many areas in the implementation of the peace agreement, but what I can tell our people is that peace has come. So we just need to build on the progress we have made so far," Stephen Par Kuol, National Minister of Peacebuilding, told Radio Tamazuj.
Par, who is a senior member of the Sudan People's Liberation Movement-In-Opposition (SPLM-IO), said all parties to the peace agreement are working to consolidate lasting peace and stability, despite challenges facing the implementation of the peace agreement.
The minister further said communal violence, political leadership vacuum in the states and the Covid-19 pandemic are some of the challenges facing his ministry. He added that the sharp decline of the oil prices in the international market is affecting government activities.
"I am working on the policies of the ministry and the strategic plan. We have also made progress in establishing relationships with partners and some influential community leaders in the country," he said.
"We are developing peace initiatives with the newly appointed governors. We are also working concrete proposals on how to address communal violence in many areas in the country," he added.
While political violence has largely subsided in South Sudan since the signing of the revitalized peace agreement, inter-communal clashes continue to result in the killing and injuring of civilians, cattle raiding and the looting of property.
The minister reiterated the transitional government's commitment to restore peace and stability in South Sudan, saying they will focus more on how to address communal violence after the finalization of governance structures.
"With one government in each state, our communities will start interacting," he concluded.
President Salva Kiir signed a power-sharing agreement with SPLM-IO leader Riek Machar and several other groups in September 2018.
The parties to the peace agreement formed the Revitalized Transitional Government of National Unity (RTGoNU) in February 2020. Despite this, there are many unresolved key issues, including security arrangements and an agreement on the finalization of governance structures.
As part of the September 2018 peace deal, government and opposition forces should form one national army.