Peace project launched in Yei River County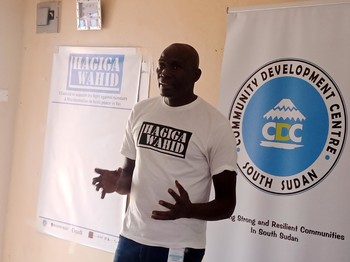 Sebit Martin, Executive Director Community Development Centre (CDC) in Yei. [Photo: Radio Tamazuj]
A peace-building project aimed at promoting peace and social cohesion has been launched in South Sudan's Yei River County of Central Equatoria State.
The Hagiga Wahid (one truth) Peace Project is an information service that helps communities to counter rumors in South Sudan.
Sebit Martin, the Executive Director of the Community Development Center (CDC), a local NGO implementing the project in Yei told Radio Tamazuj that the initiative is aimed at building durable peace and reconciling communities affected by years of conflict in the area.
"We are looking at creating a social behavior change in the minds of the people because we have seen that our people in Yei have been prone to rumors and misinformation without verification," Sebit said. "And such spreading rumors in a distorted way so one of the reasons for this project is to enable people question rumors to build peace and social cohesion among the South Sudanese living in Yei."
Sebit noted that his organization has created a free mobile platform '228 rumor reporting' and an online verification application for people to send text messages and phone calls. He said they also train community peace ambassadors to help people join hands in mitigating rumors and conflict in the area.
Meanwhile, Mambo Paul, a resident in Yei River County, applauded CDC for the initiative to help community members verify rumors before spreading misinformation across communities.
"This project is good for us because Yei has been disturbed by conflict and rumors for several years and we are happy that CDC with this initiative will support our efforts in the search for peace through the provision of the right information for the people in Yei River County," Mambo said.
Speaking at the launch, Yei River County Executive Director, Noel Taban, welcomed the development and urged the local community to speak the truth to promote peaceful co-existence among communities.
"Rumors can kill if not handled well and timely and I want you, the community members, to help in telling the truth and that is why CDC is here to counter and fight rumors. I urge all of us to fight rumors and misinformation for us to build peace in our communities," Taban said.
He added that the county government is ready to support and work collaboratively with CDC in advancing peace across diverse local communities in Yei River County.
The Hagiga Wahid project is supported by the Sentinel project-Canada in partnership with USAID, UKAID, and the ministry of foreign affairs of the Netherlands.