Peace partners agree to finalize government formation within a week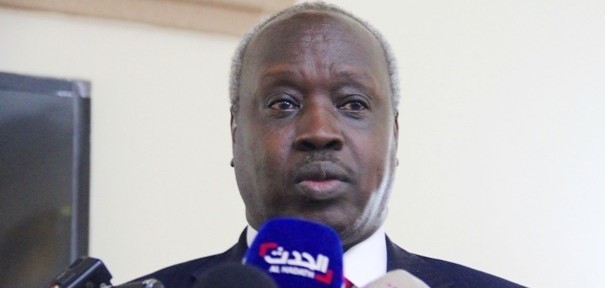 File photo: Presidential affairs minister Nhial Deng Nhial
The parties to the revitalized peace agreement have agreed in a meeting to complete the formation of government at all levels within a week, a senior official said in a statement Tuesday.
"After extensive deliberations that lasted for three hours on a broad range of critical and pertinent pending issues revolving around the implementation of the Revitalized Agreement on the Resolution of the Conflict in the Republic of South Sudan (R-ARCSS). The meeting resolved as follows; One, that completion of the process of formation of state government be expedited by finalizing the list of nominations and each one of the requisite presidential decrees effecting the appointment of the following in the course of one week," partly read the statement bearing the name of Nhial Deng Nhial, the minister of presidential affairs.
"State advisors, state ministers, state commission chairpersons, and members, county commissioners, state legislative assemblies, and county councils," the minister added. "Two, that the unification of the top echelons of the army command shall be expeditiously carried out to pave the way for the commencement of the process to integrate all forces into a single national army under one unified command."
According to Nhial Deng, the graduation of the first batch of the unified forces currently in the various training centres across the country will be conducted without further delay, "notwithstanding the lack of equipment essential for their graduation and launch preparations to admit the next batch of trainees to the training centres."
In another press statement today, Minister Nhial Deng said, "Further to the press statement issued on the outcome of the meeting of the Presidency that was held yesterday Tuesday, Feb 2, 2021, the Ministry of Presidential Affairs hereby wishes to declare that the said meeting also resolved that the (T-TGONU) shall finalize the reconstitution of the Transitional National Legislative Assembly (R-TNLA) and the Councils of States on or before February 15, 2021."
Last week, the president completed the appointment of the state governors and their deputies in the ten states and three administrative areas of South Sudan.
According to the revitalized peace deal, the responsibility sharing ratio at state and local government levels shall be 55% for the Sudan People's Liberation Movement, 27% for the Sudan People's Liberation Movement/Army in Opposition, 10% for South Sudan Opposition Alliance (SSOA), and 8% for Other Political Parties (OPP).
The partners in the peace agreement are yet to unify and deploy armed forces. They are also yet to reconstitute the national legislature – the body responsible for enacting the reforms stipulated in the agreement.
Disputes between the various peace partners and financial constraints have been major obstacles to the implementation of the peace processes.