Peace is a responsibility of everyone: Gogrial governor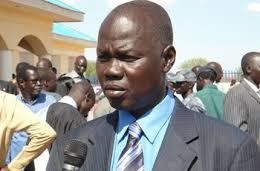 The governor of South Sudan's Gogrial state has urged for dissemination of peace messages, pointing out that it is the responsibility of everyone to preach and observe it.
Governor Victor Atem Atem, who returned to state capital Kuajok after participating in the general peace briefing convened in Juba by President Salva Kiir, told Radio Tamazuj on Thursday that he returned to the state to spread the message of peace and harmony.
"You know I was recently in Juba to take part in the general briefing called by his Excellency the President of the Republic on the peace process and the way forward. All of us the governors of 32 states attended and participated in the briefing. The president had a simple and clear message for us as governors to spread the message of peace. And as you know, peace is a responsibility of everyone to preach and spread. It is not the work of the government alone. It is the work of everybody, the government, the people, the church, the civil society and even you in the media, "he explained.
The top state official underscored that the period for psychological warfare has ended with the signing of the Khartoum Declaration Agreement. "We must come together as politicians, as communities, as members of the civil society organizations, as the church and as individuals to preach against war and give peace a chance because this is what our people want. We must all unite to put aside hurting languages that tend to further divide our people," he said.