Peace conference among Dinka Bor, Nuer concludes in Jonglei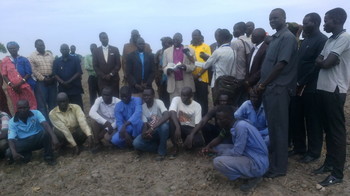 A four-day peace conference between Dinka Bor and Nuer tribes concluded Thursday in Duk Padiet area of South Sudan's Jonglei state.
The conference held from 13 to 16 brought together community chiefs, business people and government officials from Jonglei, Fangak, Bieh and Akobo states.
The traditional leaders and government officials, according to the document seen by Radio Tamazuj, identified drivers to violent conflict and adopted a resolution for ending inter-communal feuds.
"A joint integrated police shall be formed to monitor free movement of pastoralists and their cattle across the states. Fangak, Boma, Akobo, Jonglei and Bieh states shall each contribute 500 young men and women towards The JIP to be based in Gadiang and cross border areas. And each state shall contribute 100 bulls and SSP 10, 000 for their services, "partly reads the document.
Regarding conflicts over water and grazing points, the communities agreed to share the points peacefully by forming community policing and joint mobile courts comprising of cattle keepers to handle criminal cases and report to relevant authorities.
"All humanitarian agencies shall move across the borders without any levy. And all legal checkpoints between the states of greater Jonglei shall be removed to ease the movement of goods," adds the document.
The meeting also resolved that a joint revenue authority comprising of the state finance ministers from the four states will be established to provide guidance and regulate cross border taxes and that the state finance ministers will next month meet in Bor to streamline revenue policies.
The event was supported by Catholic Relief Service (CRS).