Peace conference among Dinka Bor, Nuer begins in Jonglei State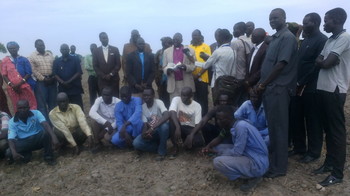 A four-day peace conference between communities from neighboring states of Jonglei, Fangak, Bieh and Akobo kicked off in Dunk Padiet area of Jonglei on Monday, several officials told Radio Tamazuj.
The governor of Jonglei state, Philip Aguer, told Radio Tamazuj that the conference brings together communities from Dinka Bor and Nuer in greater Jonglei state to discuss issues pertaining to peaceful co-existence.
He pointed out that a team of government officials from Jonglei led by himself left Bor this morning to attend the peace conference in Duk Padiet.
Aguer noted that the business people and community representatives from the four states of greater Jonglei will have a chance to speak freely and present their views on how to tackle recurring violent conflicts in the area.
Nathaniel Manyiel, acting chairperson of the peace and reconciliation commission in Jonglei, urged all political leaders from the four states to develop a mechanism for implementation of the resolutions that will be adopted during the conference. He pointed out that the peace conference will consolidate the national dialogue process.
The event is being supported by Catholic Relief Service (CRS).