Parts of Aweil East county get electricity for the first time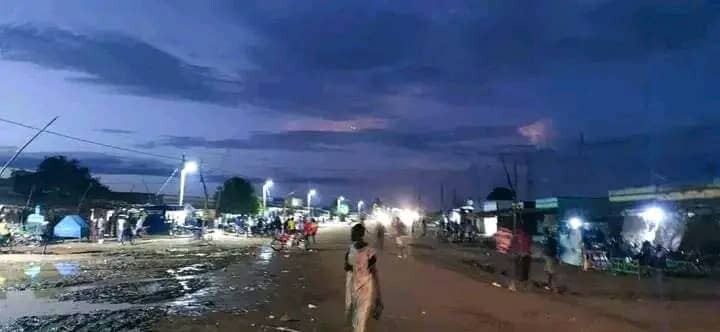 Aweil Town on the night of 27 September 2022. [Photo: Radio Tamazuj]
Residents and business people in parts of Aweil East County of Northern Bahr el Ghazal State expressed happiness when electricity was switched on on Tuesday night. 
In May, the government of Aweil East inked an agreement with the Sun Gate Company to supply power to benefit Wanyjok Market and surrounding residential areas.  
Some of the dwellers who spoke to Radio Tamazuj commended the initiative and appealed for the electrification of the entire country.
"Yes, I am very happy about the arrival of the electricity because this is the first time for such a thing to come here. It is very good and assists in the development of the area," said James Ayat Thiep, one of the citizens.
"I want to tell all the people to install electricity across the country, this is my message", he added. 
Another resident, Agiu Deng, said the introduction of power will encourage business people to invest in the county. 
"It contributes to economic activities in the county, also it will attract business people to come in Wanyjok and that will improve the living standard of the people who are living here," he said.
A local investor, Ajong Dhal who sent a thanksgiving tweet said the area took a step towards development.  
She added that the Wanyjok Market usually closes before dark due to theft and burglary, but she now believes that issue has been addressed. 
"We are so happy and we are waiting for its extension to all of us and this indicates that our area in developing," Dhal said. "The market in the past time did not operate at night hours because many thieves can attack traders at night, but now the thieves are deterred by light."