ADDIS ABABA -
17 Feb 2018
Parties urged to observe truce after peace talks' suspension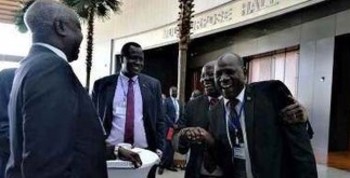 South Sudan's warring parties have been urged to observe the signed ceasefire truce after the East African regional bloc IGAD suspended the second round of talks when peace negotiators reached a deadlock over governance and security arrangements in Addis Ababa on Friday.
The second round of peace talks between the South Sudanese government and opposition groups was suspended temporarily, underlining the mammoth challenge of putting an end to South Sudan's four-year civil war.
Simon Akuei Deng, Secretary General of the South Sudan Chamber of Commerce, called on both sides of the conflict to observe the ceasefire deal after the second round of talks ended without signing a peace agreement as planned by IGAD.
"I am calling on all the parties as we break from Addis Ababa to observe the cessation of hospitalities agreement. Let's not fight because fighting destroys our environment and businesses and makes our people to suffer more," he said.
The members of the Troika (Norway, the United Kingdom, and the United States) underscored in a joint statement yesterday the critical importance of the parties creating a conducive environment for peacemaking, pointing out that fighting while talking is unacceptable and cannot be tolerated.
"The parties must make good on their promises to implement the Agreement on a Cessation of Hostilities (ACOH) signed in December 2017. We take note and support the intention by IGAD and the African Union to identify and impose consequences on those undermining peace as soon as possible and we stand ready to support them in their efforts," the group said.
The three nations urged the South Sudan parties to do more on the outstanding security and governance arrangements in order to reach a meaningful agreement.
Alakiir, a representative of the civil society group, said the warring parties pended their initials on Chapter 1 and Chapter 2 of the 2015 peace agreement. She expressed optimism that the parties will make progress in the third round of the revitalization forum.
Michael Makuei Lueth, Minister of Information and Communication, said the South Sudan parties will resume the talks on the disagreed provisions in the next phase of the revitalization process.
"We have been informed by the mediators that we will resume soon and continue with the talks on the other disagreed issues," he said.
Bishop Isaiah Dau of Pentecostal Church called on South Sudan's leaders to develop home-grown solutions to the ongoing civil war in the country." IGAD can help us, EU can help us and Troika can help us, but ultimately it is we to bring peace," he said.
Ismail Wais, the IGAD Special Envoy for South Sudan, said the mediation team and South Sudan stakeholders need more homework to do during the break time, pointing out that the South Sudan parties will resume the talks next month.