ADDIS ABABA -
16 May 2018
Parties to hold South-South dialogue meeting before talks begin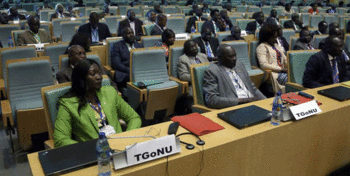 South Sudan's parties have decided to begin political dialogue to build trust and to discuss their differences in a closed-door dialogue meeting today before the talks could kick off in Addis Ababa.
Edmund Yakani, Executive Director of the non-profit Community Empowerment for Progress Organization (CEPO) told Radio Tamazuj from Addis Ababa on Wednesday night that the South Sudan parties including religious leaders would hold an intra-South Sudanese dialogue in Addis Ababa before the official talks could start officially later today.
"We have agreed to start with a south-south dialogue and IGAD has accepted our idea. The wisdom behind is to allow South Sudanese to have their own dialogue so that they build trust among themselves in an attempt to solve their own differences on governance and security, "he said.
On the top agenda of the dialogue meeting, according to the leading activist, is to discuss ways to find a common ground and narrow the gap between the warring parties.
"The meeting is being led by our religious leaders and civil society organizations are supporting it. I am sure the dialogue would pave the way for talks today," he said.
According to the South Sudanese rights defender, the meeting has been welcomed by many countries." The dialogue will be strictly for South Sudanese to pave the way for the IGAD-led peace talks," he said.
Yakani pointed out that the government delegation led by chief negotiator Nhial Deng Nhial had accepted to be part of the dialogue meeting.
The south-south dialogue meeting in Addis Ababa would start from 9 am and conclude around 2 pm. The opening session of the official peace talks between the parties under the auspices of the East African regional bloc IGAD has been scheduled to start around 3 pm today.