ADDIS ABABA -
14 Feb 2018
Parties at Addis talks meet separately without mediation after 'deadlock'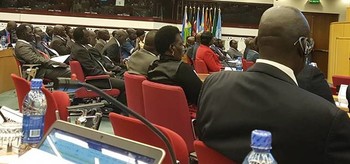 South Sudan's parties at the ongoing peace talks in Addis Ababa have been meeting separately since morning without the mediation team after the talks hit a deadlock over governance, a senior rebel official said.
"The government delegation had requested the facilitators to allow the South Sudanese parties to meet separately without any mediation to discuss matters related to governance. So, the parties are still negotiating," Emanuel Aban, spokesman of the opposition group led by Lam Akol, told Radio Tamazuj this afternoon.
"The opposition accepted the request made by the government to hold separate talks, so the warring parties are still negotiating on governance without the mediators," he added.
Aban pointed out that the two sub-committees formed recently have not yet reached an agreement. "The security committee is still working and the governance committee is also working," he said.
The rebel official expressed optimism that the possibility of an agreement on all contentious issues remains unclear. "Honestly, it is difficult to say that there will be an agreement this time round without finding solutions to the root cause of the crisis in the country," he said.
Peace talks between South Sudan government and opposition groups in Addis Ababa entered ninth day.