Parliament to incorporate faltering peace deal into constitution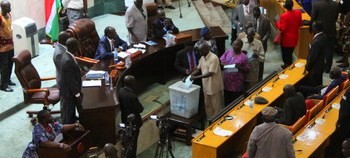 South Sudan's parliament is expected to approve a legally binding measure that will incorporate the faltering 2015 peace deal into the country's constitution.
The government is behind schedule to implement the agreement, as the 2015 peace deal the government and rebels required that the nation would have a new constitution 18 months after the unity government.
The faltering peace deal is still being revitalized by the East African regional bloc by bringing together all warring parties after challenges during the implementation phase.
Paul Yoane Bonju, chairperson of the parliamentary committee for information, said the lawmakers will sit to incorporate the 2015 peace agreement into the country's constitution on Monday.
"I would like to make an announcement to members of the national legislature to attend a very important sitting on Monday," Bonju said.
"The historic parliamentary sitting is on the incorporation of the Agreement on the Resolution of the Conflict in South Sudan into the Transitional Constitution of 2011 amended in 2015," he explained.
The lawmaker urged his colleagues to get ready and collect the necessary documents before the planned sitting on Monday.
The South Sudan parties are expected to resume talks to revitalize the 2015 peace agreement from 17-21 May.
The regional bloc IGAD said there still exist wide gaps between the warring parties that need to be narrowed through wider consultations.