Parliament summons ministers, governor over toxic chemicals in Upper Nile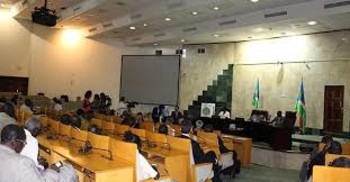 South Sudan's Parliamentary has summoned five ministers and one governor after complaints that DAR Petroleum Operating Company had poorly dumped expired toxic chemicals in Upper Nile region.
The decision taken by the country's legislative organ to summon the officials came after deliberations on the effects of toxic oil spills on the health of the people and the environment in the oil producing region.
Speaking during parliamentary sittings on Monday, the Speaker of the National Legislative Assembly Anthony Lino Makana said the national ministers of petroleum, health, justice, finance and environment as well as the governor of Northern Upper Nile should appear before the parliament within two weeks to explain the oil pollution in Paloch.
James Lual Deng Kuel, chairperson of the parliamentary committee for petroleum explained that 42 containers of expired toxic chemicals were brought by Dar Petroleum Operating Company for agricultural projects in Malut after being stationed in Sudan.
The lawmaker pointed out that the chemicals were manufactured in Jordon in 2013 and expired in 2016.
"DPOC engineers claimed that those expired chemicals have not been harmful to the people in the location and they will remain so until the time comes for their disposal outside the country," he said.
"Honestly, the citizens of Adar and Melut have been adversely affected in their health by the operations of oil production in their respective areas," he added.