Parliament seeks to extend Kiir's term as talks progress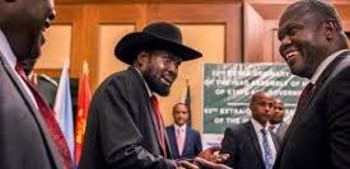 South Sudan's parliament on Monday started deliberating on a proposal to extend the presidential and parliamentary term to July 2021 as peace talks progress in Khartoum.
Justice Minister Paulino Wanawilla on Monday presented the bill to National Legislative Assembly to extend the term of the parliament and the incumbent President for another three years.
South Sudan government repeatedly said it will extend its mandate should the peace talks with the rebels fail, despite the international pressure to drop the effort.
Anthony Lino Makana, speaker of the national legislative assembly, said in a statement to South Sudan Broadcasting Corporation that they have already incorporated the 2015 peace deal into the country's constitution.
He further said the parliament will deliberate on the extension of the presidential and parliamentary term within one month.
"It will be passed as per the constitution, so the parliament is also going to debate the budget," he said.
In 2015, South Sudan's parliament amended the country's constitution and extended President Kiir's government for three years.
The South Sudan parties are currently negotiating on the outstanding issues in Khartoum to bring peace in the country.