ADDIS ABABA -
20 May 2018
Pagan urges Kiir to quit as talks make 'limited' progress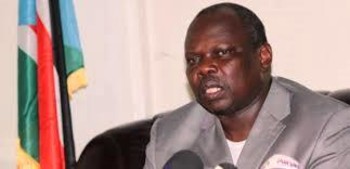 Photo: Pagan Amum
Pagan Amum, leader of the former detainees' group, has asked the country's president Salva Kiir to quit as the peace talks make limited progress.
"I must express my disappointment about the outcome of the discussion that the parties have largely reiterated their arguments and positions, and very limited progress has been achieved," Pagan said in a statement from Addis Ababa.
Pagan said very limited progress was made on security arrangements and that the warring parties recommitted themselves to silence the guns as the peace talks are ongoing in Addis Ababa.
"Limited progress has been achieved because there is an agreement on cantonment of the forces, but much more needs to be done," he said.
The top opposition official said the South Sudanese government rejected to work with the main opposition leader Riek Machar. "We are talking peace here and whatever problem should come to an end, and we should be able to reach an agreement so that we work together," he said.
"We cannot allow South Sudan to be taken hostage by this position. It has now become more urgent for President Salva Kiir, Dr. Riek Machar and all the leaders including myself, we should all step aside," he said.
He also called on the current leaders to quit power to allow for formation of a transitional leadership of technocrats until elections are held.
Pagan noted that the peace talks are still ongoing to tackle the outstanding issues before the parties could summit their final report to the regional mediation.
"In case the parties failed to reach an agreement, it will be important now for IGAD, African Union and the international community to impose a peace agreement that must be implemented," he said.