Over 800 arrested in Sudan protests: minister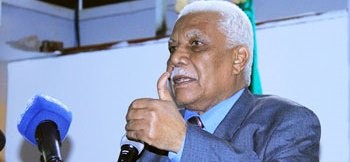 Photo: Ahmed Bilal
More than 800 protesters have been detained in more than two weeks of anti-government protests in Sudan, Interior Minister Ahmed Bilal said.
"The total number of protesters arrested until now is 816," Bilal told parliament on Monday.
According to the Sudanese minister, 19 people have been killed in the protests, including two security personnel. He added that there had been a total of 381 incidents reported since December 19.
"As many as 127 security personnel, mostly policemen, have been wounded," Bilal said.
He pointed out that 14 police facilities were damaged in the protests. The government official accused anti-government demonstrators of engaging in sabotage and violence.
The minister further said police officers have been conducting their duties with utmost professionalism in the violent protests.
Deadly protests have rocked Khartoum and other cities since December 19, when unrest first broke out over a government decision to raise the price of bread.
Bashir, who came to power in a military coup backed by Islamists in 1989, vowed to take real reforms to guarantee a decent life for Sudanese citizens after the protests.
Supporters of President Omar al-Bashir have been called to gather in Khartoum's Green Square on Wednesday morning to counteract anti-regime protests which have gripped the country for more than two weeks.
An umbrella group of independent professional unions also called on anti-government protesters to march on the national parliament on the same day to demand that President Omar Bashir step down.