Over 70 delegates attend post-migration conference in Aweil West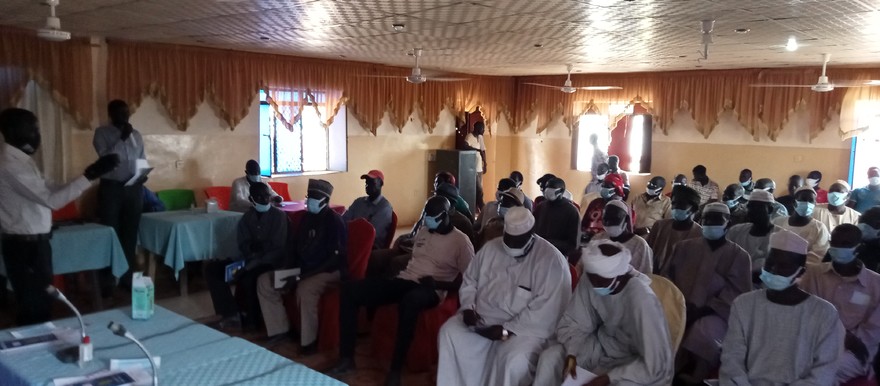 Delegates at the ongoing pot-migration peace conference in Nyamlel, NBGS on 16 June 2021. [Photo: Radio Tamazuj]
More than 70 delegates from the Dinka Malual, Luo, and Rizeigat communities including representatives from the government and peace partners are attending a post-migration peace conference in Nyamlel town of Northern Bahr el Ghazal State's Aweil West County.
The conference which started on Wednesday takes place every year during the dry season as the Arab Rizeigat pastoralists who have been grazing in parts of South Sudan return to their areas in neighboring Sudan.
Speaking to Radio Tamazuj Wednesday, Northern Bahr el Ghazal State minister of information and acting minister of peacebuilding and reconciliation Abraham Wol Kom said the conference aims at reviewing relations during the past migration season.
"The post-migration peace conference is intended to review the previous resolutions as a usual culture and to move forward to maintain peaceful coexistence. So, it is an activity between the Rizeigat, Luo, and Dinka and more especially border communities,'' said Kom.
The Dinka Malual Paramount Chief in Aweil West County, Dut Majak appreciated the governments in the two countries for their contribution and participation in peacebuilding in the border region.
"The peace conference between the Dinka Malual and the Rizeigat is an old practice since the days of our fathers. And now it is developed and both governments of South Sudan and Sudan have joined because if the people from both countries agreed, then the leaders in those countries may accept what their people need," he added.
Mahmud Al-Sadig, the Rizeigat community leader in Northern Bahr-el- Ghazal State said their only wish is to remain united with their neighbors Dinka Malual and Luo.
Speaking on behalf of the peace partners, Maria Inecita Montero, the head of civil affairs division and acting head of UNMISS field office in Northern Bahr el Ghazal, said their main aim is to ensure peace prevails in the area.
"Regarding this post-migration peace conference, this is being organized by the peace actors in Northern Bahr el Ghazal State; ministry of peacebuilding, UNDP, FAO, VSF, SAFER WORLD and of course UNMISS' civil affairs division, and this is our support to our Rizeigat, Dinka Malual, and Luo communities to ensure that they continue to live peacefully especially during the migration season," said Montero.
She added, "And now as we are nearing the end of migration season, they have to come together with our support so that they can revisit what happened during the migration season, how to make it much better or more peaceful engagement in the next migration season, how they can strengthen their relationships as communities coming from Sudan and the host communities in South Sudan especially Dinka Malual and Luo."
Meanwhile, a soccer tournament is ongoing among teams of the communities represented at the Nyamlel Freedom Square.
The Northern Bahr el Ghazal State government and peace partners every year organize pre and post-migration peace conferences to enhance peaceful coexistence among the communities during migration.