Over 7,000 people urgently need food in Mugwo County: official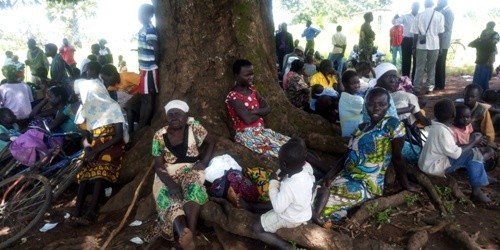 Photo: internally displaced persons seated under a tree in Yei River State. (Radio Tamazuj)
More than 7, 000 internally displaced persons are currently in urgent need for food aid in Mugwo County in South Sudan's Yei River State, a local official said.
Emmanuel Mawa, Coordinator of the Relief and Rehabilitation Commission, told Radio Tamazuj on Saturday that the conflict-affected families in the county are surviving on yams and wild fruits to stay alive.
"We have recorded 7,300 IDPs and their number is increasing daily because there was fighting between the NAS and the SPLA-IO at Ondukori village on Friday," he said.
The relief official called on aid agencies to help the conflict-affected families before their humanitarian situation deteriorates further.
"The IDPs are currently living under trees and others are living in schools. They are in need of food and non-food items," he said.
Grace Monday, a displaced woman in Mugwo, said she lost her belongings during the fighting in her village.