Over 600 inmates screened at Rumbek Prison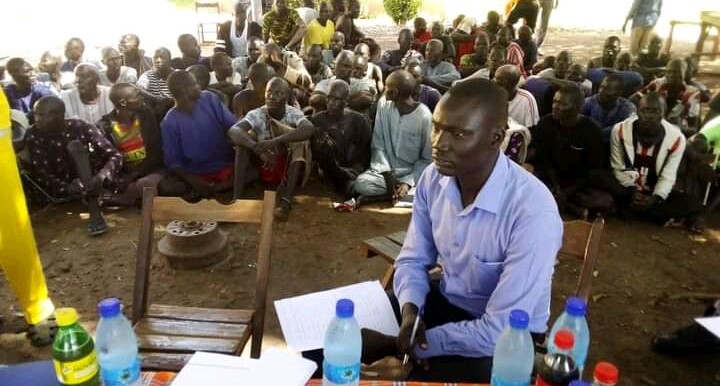 Inmates during screening at Rumbek Main Hospital on 16 October 2021.[Photo: Radio Tamazuj]
More than 600 inmates at the Rumbek Main Prison in South Sudan's Lakes state were screened on Saturday in a move aimed at decongesting the prison.
The screening was conducted by the Rules of Law Screening Committee comprising nine members of special court judges, attorney generals, and the minister of parliamentary and legal affairs in Lakes State.
The minister of parliamentary and legal affairs in Lakes State, John Thon Kuat told Radio Tamazuj that about 120 inmates were still on remand, awaiting trial.
"There is overcrowding of inmates. We have found 672 prisoners convicted of different crimes. But, the number of minor crime cases is very high than murder cases. The purpose of conducting a screening is to separate all the cases. Some cases need to be referred to County, Payam, and Boma levels and some cases will remain in the special court," he explained.
Thon adds, "Another reason for conducting this screening is to reform the judicial system and to hasten the trial of cases. We went there with nine members of the special court, attorney generals, and police investigators in prison and we found 120 remand cases and the process of their investigation and trials will begin on Monday (yesterday)".
The minister noted that the committee has visited counties and has closed down all the military detention facilities in the military barracks in Lakes State.
"We also resolved that no civilian who has committed a crime shall be detained in the military detention facility. All the civilian cases which are related to arrest shall be referred to Rumbek main prison after police investigation and trials by the special court," he said.
A Rules of Law Screening Committee member Chief Andrew Madut Buoi said they have confirmed 100 cases to be handled by the special court. He noted that most of the inmates have been convicted and are serving jail terms.
Madut hailed governor General Rin Tueny Mabor Deng for improving security in the area saying cases of road ambushes and cattle rustling have significantly reduced.
A prison officer in charge of protection in Rumbek Prison, Majak Teher, said the total number of registered inmates is 667.