Over 50 displaced women receive hairdressing, tailoring equipment in Awerial County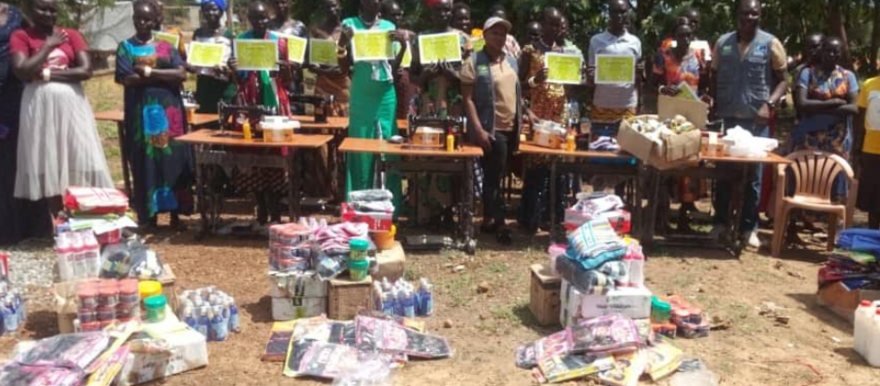 The beneficiaries display their certificates and the equipment they received. (Photo: Radio Tamazuj)
The Finn Church Aid on Tuesday distributed hairdressing and tailoring equipment to internally displaced women in the Mingkaman settlement in Awerial County of Lakes State.
The 52 women who were beneficiaries took part in hairdressing and tailoring courses in 2020 and 2021. Among the items they received were 9 tailoring machines and assorted items such as Kitenge cloth material and scissors.
The team leader of Finn Church Aid, Andruga Hilary, told Radio Tamazuj Tuesday that the 9 sewing machines will be shared by 19 women and that 33 others received hairdressing kits.
"The beneficiaries of these startup kits are those who were trained in 2020 and 2021 and they will use these materials for their business activities. There is no other item to be distributed to them again," he said. "The only thing that we shall do as Finn Church Aid is monitoring and evaluation of their businesses and write a success story of them."
Arok Deng Amol, one of the beneficiaries of a tailoring machine, expressed happiness and appreciated the Finn Church Aid for helping them with the startup equipment.
"We are 19 women in tailoring work and 33 others did hairdressing. We have received hairdressing and tailoring machines and other items for a business startup from Finn Church Aid," she said. "This is a very good help for the women in Mingkaman and we are going to use all these machines for our businesses."
For his part, Makueth Kuot Deng, the Finn Church Aid livelihood project officer, said the beneficiaries were the first and second batches trained in 2020 ND 2021.
"We have distributed to them 9 sewing machines, hairdressing equipment, and assorted items which includes scissors, and Kitenge material, and these items are startup kits for their business activities in Mingkaman," he said.