Over 40 South Sudanese officials may have committed war crimes: UN report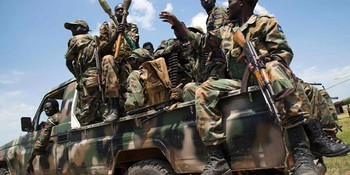 More than 40 South Sudanese officials may have committed war crimes and crimes against humanity, the United Nations said on Friday.
A new report by investigators from the UN Commission on Human Rights in South Sudan said the officials, including army generals and state governors, may be responsible for the rape and murder of civilians and recruitment of child soldiers.
The identified officials were not named in the UN report. The UN Commission pointed out that its findings are based on interviews with hundreds of witnesses, satellite imagery and nearly 60,000 documents dating to the outbreak of the civil war.
The Commission said it has already identified eight Lieutenant Generals, seventeen Major Generals, eight Brigadier Generals, five Colonels and three State Governors who may bear individual responsibility for serious violations of human rights and international crimes in South Sudan.
"The court could be set up straight away and the prosecutor could begin working on indictments. Under the peace agreement those indicted can no longer hold or stand for office," said the Chairperson of the Commission, Yasmin Sooka. "Ultimately this is the only way to stop the rampant devastation of millions of human lives by South Sudan's leaders".
The Commission's report chronicles appalling instances of cruelty against civilians who have had their eyes gouged out, their throats slit or been castrated.
"Children have been recruited by all sides in the conflict and forced to kill civilians; in many cases they have watched loved ones raped or killed," the report stated.
"The scale of the hunger and destruction inflicted on the country by its political and military leaders defies description."
"Holding those in charge in South Sudan accountable for the intentional suffering they inflict on their own people is crucial to stemming this humanitarian catastrophe," said Commissioner Andrew Clapham. "The African Union should immediately move with South Sudan to establish the Hybrid Court."
The Commission's investigators focused on a number of emblematic incidents, collecting victim testimony and information about which units were deployed in the area, making the case for individual command responsibility for widespread or systematic attacks on civilians.
"There is a clear pattern of ethnic persecution," said Clapham, "for the most part by government forces who should be pursued for crimes against humanity".
The report will be used as evidence in future war crimes trials due to take place under the terms of the 2015 peace accord.