Over 40 killed in Jonglei state cattle raid: official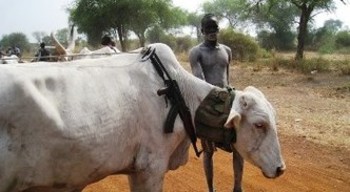 File photo: A cattle herder in South Sudan
At least 40 people including women and children were killed in a cattle raid carried out by suspected armed youth from Boma state on Duk Payuel town in Jonglei's Duk Payuel County on Tuesday morning, an official said.
"An attack was launched today morning [Tuesday] by Murle youth on Duk Payuel town. The incident resulted in the killing of 40 people and 19 others wounded," Jacob Akec Dengdit, Jonglei state information minister told Radio Tamazuj this afternoon.
He added, "The criminals burnt down the town, took cattle and abducted women and children, so this terrible incident happened in Duk Payuel County. According to the report, 22 women and 17 men were killed and a new born baby was also killed."
He pointed out that many people are still missing after the attack. "Many people are still missing because the incident occurred early morning. The authorities are now in the area trying to collect more information and assess the losses," he said.
Separately, Minister Akec said that at least three people were killed and another person was wounded in an attack on the area of Pajut in Duk Panyang County by cattle raiders on Monday, bringing the total number of people killed in greater Duk County to at least 43.
For his part, Boma state minister of information John Komen denied knowledge of the incident. "I don't have any information right now, but I will talk to the governor maybe he has information," he said.
The pastoralist Dinkas from Jonglei and their Murle neighbours in Boma state have for long been wrangling leading to cattle raids and child abductions. The two sides signed a cessation of hostilities agreement in Juba in May but the deal could not hold.