Over 300 returnees in Lujule County need assistance: official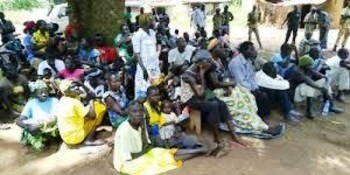 Lasu Payam returnees sitting under a mango tree [Gurtong photo]
Over 300 South Sudanese who have returned to Lujule County of Yei River State are in dire need of humanitarian assistance, a local official said.
Joseph Mawa John, Commissioner of Lujule County, told Radio Tamazuj on Thursday that at least 338 individuals, mostly women and children, returned to the area from the Democratic Republic of Congo (DRC).
"As I speak to you currently, there are 338 individuals in urgent need for food and shelters to support them," he said.
Mawa urged the state government and humanitarian organizations in the area to provide emergency assistance to the returnees. "My message to the state government and the humanitarian agencies is to intervene to help these returnees," he said.
Last week, authorities in the state said they received consignments of assorted food items which were donated by the South African government to meet the basic needs of conflict-affected people.