TWIC CENTRE -
23 May 2017
Over 30,000 civilians need food aid in Twic Centre County, Jonglei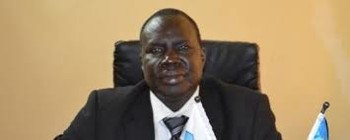 Photo: Commissioner Dau Akoi Jurkuch
Authorities in Twic Centre County in South Sudan's Jonglei State said more than 30,000 civilians are facing dire humanitarian conditions due to lack of food and health services.
Speaking to Radio Tamazuj on Monday, Commissioner Dau Akoi Jurkuch said the lack of food is caused by poor rains that led to the destruction of crops.
"The rainy season has failed that's why civilians have a poor harvest which has led to the hunger situation now. People are really suffering and the prices in the market are also very expensive especially when you compare that with the salary and income, it will not be enough," said Jurkuch.
The commissioner also added that there is a lack of medical supplies and services in the county. Jurkuch called on humanitarian aid agencies to quickly intervene and help the needy people who are mostly women and children.