Over 28 households return to Yei from Uganda, Congo: official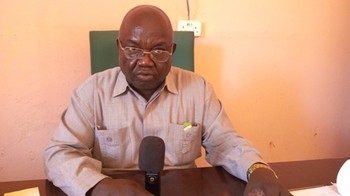 File photo: Peter Butili Parajallah (Radio Tamazuj)
A senior relief official in South Sudan's Yei River State said that over 28 households are in dire need of humanitarian assistance following their return from neighboring Congo and Uganda.
"There are very many returnees who are voluntarily returning from Uganda and Congo. We have received 28 households with 58 individuals and 27 households with 65 individuals last Sunday and more are still in Kaya," Peter Butili Parajallah, chairperson of the state relief and rehabilitation commission, told Radio Tamazuj today.
He pointed out that his office was unable to provide food and other services to the returnees. "We in the government, we are handicapped and we are appealing to the humanitarian partners to rescue these people," he said.
The government official said the state agency for relief had established a base in the town of Kaya to register those who want to go to Yei town.
Farajallah added that the state government had offered vehicles to transport the returnees to the town of Yei. He appealed to NGOs operating in the state to assist the returnees.
Moro Isaac, a South Sudanese returnee, said they were warmly received by the government but there was no food. "We were registered but given nothing. I went to my house and I found out that I lost everything including mattresses and my house has been burnt down," he said.