Over 200 returnees face dire situation in Bor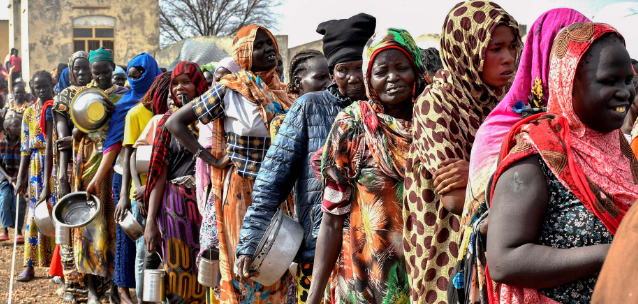 Returnees line up to receive food in South Sudan. (Photo: New Humanitarian)
Approximately 258 returnees who fled the fighting in Sudan to Bor town in Jonglei State are facing critical shortages of food and shelter.
Stephen Kuel, the representative of the returnees, said the returnees lack food and medicine.
 "The majority of returnees are from Uror County. There is no food and medicine yet we have been here for two months," he said. "Those with relatives in Bor, approximately 10 households, have been reintegrated into the community. We appeal for aid."
Another returnee, Mary John, said that they had requested transportation to Uror for resettlement but insecurity in the area is forcing them to remain in Bor where food is severely limited.
For her part, Elizabeth Nyadak John, the state information minister, acknowledged the dire situation faced by the returnees.
"These returnees lack food, medicine, and other essential services. They are currently settled at a location known as Digrut," she said. "Just last week, I donated 55 kilograms of clothing to them and their situation is truly distressing. Aid agencies should urgently step in to assist."