Over 16,000 refugees return to Lainya County: Official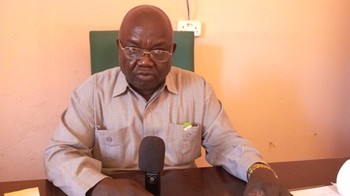 Peter Butili Farajalla-Yei River State RRC Chairman. Photo Credit Radio Tamazuj
The chairperson of the Relief and Rehabilitation Commission in Yei River State, Peter Butili Farajallah says more than 16,000 South Sudanese refugees who fled Lainya County as a result of the conflict to neighboring Uganda two years ago, have returned to the area.
Butili said a majority of the returnees mostly women, the elderly and children left the various camps in Uganda following reports of improved security in Yei and are in dire need of humanitarian assistance.
"I can confirm that these people came on footing on their own to the area and they are in need of emergence food assistance so that they are able to stand on their own again," he said.
Mr. Butili also said two humanitarian organizations-ZOA and the Islamic Relief have pledge to deliver emergency one month food assistance to the vulnerable there.
"Our partners ZOA and Islamic Relief organizations have come to support us in Lainya County. They are supporting 1,100 households with food items like beans, sorghum, oil and salt. I am happy because this food will help the people of Lainya County to start their cultivation season with energy. The Relief assistance will cover returnees in Loka, Kenyi, Bereka, Logwili and Lainya County centers," he added.
Butili also called on other humanitarian organizations operating within the country to support the returnees in Yei River State.