Over 150 hungry people from Bazia flee to Agok, Wau State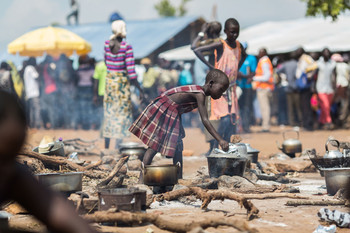 Photo: SouthSudan_Uganda_UNHCR_
More 150 displaced people mostly women and children from Bazia area have fled to Agok village within Wau State, some 8 kilometres southeast of Wau town.
In interviews conducted by Radio Tamazuj yesterday, several displaced families said they left their homes in Bazia due to lack of food.
The families further said they were suffering due to hunger, besides the atrocities allegedly being committed against the locals by government troops. They pointed out that they walked on foot for five days to reach Agok area on Thursday last week.
They called on aid agencies to provide them with food.