Northern Bahr el Ghazal -
24 Feb 2021
Over 100,000 children miss out on polio campaign in N.Bahr el Ghazal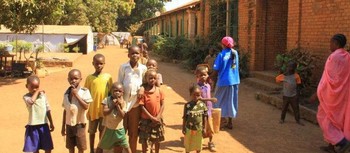 A four-day polio vaccination campaign concluded in South Sudan's Northern Bahr el Ghazal State last Friday with officials claiming that more than 100,000 eligible children missed out on the exercise.
On Tuesday last weekend, the state health ministry launched the vaccination campaign to immunize over 290,000 children below five years.
John Agany Deng, Director for Primary Healthcare in Northern Bahr el Ghazal State's ministry of health told Radio Tamazuj on Tuesday that the campaign was already concluded after more than 170,000 children were vaccinated across the state's counties.
"It ended but still we have some children that we are counting on the vaccines and then vaccines from all posts will be taken back on Thursday to the state. We have a target we were supposed to reach 290,452. Currently, we have reached 177,000 and then the rest of the posts we didn't receive the report,'' said Agany.
He said the ministry is still waiting for reports from some counties and a determination on whether another vaccination campaign will be done, will be made.
Santino Ngong Chan who heads the state Extended Program on Immunization (EPI) said, "The campaign is over, only some challenges pending. We have missed some villages and we have captured some villages. Yes, the report that reached us is 61% but the reports are still coming now so we will have some of the field supervisors bringing in the reports,'' he said.
According to him, some people refused to vaccinate their children and the vaccinators were overwhelmed.