Opposition governor of Wau denies over 6,000 rebels joined national dialogue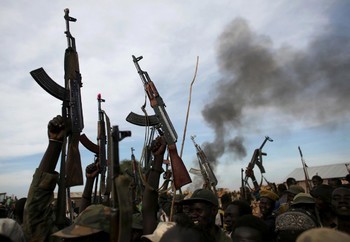 File photo
Dominic Ukelo, the rebel-appointed governor of Wau State has dismissed claims by Taban Deng's faction that over 6,000 rebel forces loyal to Riek Machar have denounced rebellion and joined President Kiir's national dialogue.
"We, the government of Wau Federal State in Opposition, would like to dismiss the claim by Abdu Musa Jibril, head of the government-allied opposition allegation in Wau that aims to lower our moral after our recent victories in Boro Madina, Khur Shamam, and Menambika city around Raja Federal State," he said in a statement to Radio Tamazuj.
The opposition official pointed out that the political and military leaders of Wau are loyal to the former first vice president Riek Machar.
"We in Wau Federal State in Opposition are united behind Dr. Riek Machar to fight the regime in Juba, until the rule of law, accountability, and federalism are achieved in the Republic of Southern Sudan," said Ukelo.
On Wednesday, a delegation of the Sudan People's Liberation Movement-In-Opposition (SPLA-IO) faction led by Taban Deng Gai Taban dispatched to Wau claimed that over 6,000 rebels loyal to Machar have denounced rebellion and joined the national dialogue process in Juba.