Opposition forces deny being behind robberies along Awiel-Raja road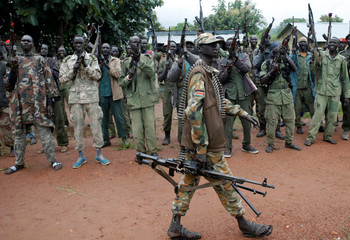 South Sudan's rebels loyal to former first vice president Riek Machar in Western Behr el Ghazal region have denied accusations that they are responsible for launching attacks on traders operating along the Aweil-Raja road on Monday.
SPLA-IO military spokesman in Western Behr el Ghazal Nichola Gabriel Adam told Radio Tamazuj on Wednesday that their forces are under strict instructions not to attack civilians. He instead accused government forces of attacking the traders and looting their property.
Gabriel claimed that the attack has been carried out against civilians because they have spent more than six months without salaries based on speech of President Kiir recently.
A source at Raja Civil Hospital claimed that civil servants and people of Raja town have abandoned the town, saying that the town has an estimate of about 3,000 people most of whom are women and elders. The same source claimed that government officials are operating out of Raja town.
Radio Tamazuj could not independently verify these claims.
In April this year, the SPLA-IO forces attacked Raja town forcing many civilians to flee the town mostly to Sudan's East Darfur State.