Opposition alliance rejects Entebbe proposal on governance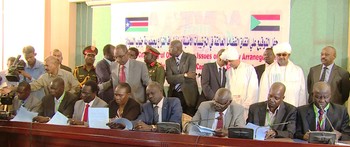 The South Sudan Opposition Alliance, SSOA and other opposition parties say they "absolutely reject" the Entebbe proposal saying it does not serve the interests of the suffering people of South Sudan.
The proposal submitted to the parties on Saturday included the creation of 4 Vice Presidents positions with Riek Machar reinstated as First Vice President, an addition of 15 ministers to the current cabinet in Juba and an addition of 150 members of parliament to the current parliament.
In a statement seen by Radio Tamazuj on Monday, SSOA said that despite being officially invited to the talks in Entebbe, they were locked out of the 8-hour proceedings between the government and the SPLM/A in Opposition.
"It is obvious to the suffering of South Sudanese people who are ta the receiving end of this devastating war. If peace prevails they will need every pound for repatriation, resettlement, relief and reconstruction of their livelihoods and infrastructure. The little money available is now to be spent paying a bloated government of 550 MPs, 45 ministers and 10 deputy ministers in a country with about 10 million people. This is why SSOA is demanding a lean government," read the statement in part.
The opposition alliance also noted that the Entebbe proposal is meant to maintain status quo and tailored to suit individual interests rather than address fundamental governance issues and will not address the root causes to the conflict.
The statement also appals the lack of inclusivity and no mention of federalism in the proposal which SSOA says is the will of the people.
The South Sudanese parties are now in Khartoum and expect to receive a final draft on governance soon.