ADDIS ABABA -
20 Jun 2018
Opposition alliance rejects peace deal with seeds of failure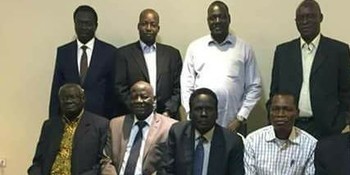 South Sudan's opposition alliance has issued a statement saying they will not be part of any peace deal that carries the seeds of failure, citing previous agreements.
The opposition alliance, whose most of its members are taking up arms against the Kiir administration, is made up of nine opposition groups.
The group, according to a statement issued on Monday 18 bearing the name of its spokesman Kwaje Lasu, said they proposes a lean government because a bloated government is too expensive to run because of meagre resources in the country.
The leaders of the alliance also called for de-concentration of powers of the President saying these were the same powers used to violate and abrogate in the previous agreement.
It argued that one way of achieving de-concentration of powers was to have technocrats run the transitional period and all politicians step aside until elections are held.
The statement further called for restoration of the defunct 10 States and the two administrative areas of Abyei and Pibor according to the 2015 peace agreement.
"For us, the above are the prerequisites for a sustainable peace which our people are yearning for. We have seen how quick fixes or bilateral rather than inclusive agreements have landed our people into a vicious cycle of unending wars," partly reads the statement.
"We want this to be the last war in our country; our people deserve peace. In this respect, SSOA would like to assure our war weary people that we shall never leave any stone unturned in the search for peace," adds the statement.