Opposition alliance initially declined to sign Khartoum peace deal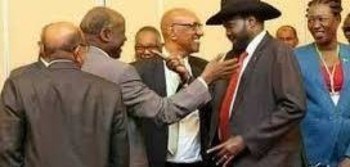 South Sudan's opposition alliance has initially refused to sign the Khartoum Declaration of Agreement today, multiple sources said.
The South Sudan opposition alliance (SSOA), whose most of its members are taking up arms against the current government, is made up of nearly nine opposition groups.
The sources told Radio Tamazuj that the South Sudan opposition alliance initially chose not to sign the Khartoum Declaration Agreement signed by President Salva Kiir and rebel leader Riek Machar this afternoon.
The deal was signed at the Sudanese presidential palace in Khartoum this afternoon by Kiir and Machar. The document was co-signed by representatives of the deferent groups.
"The alliance group eventually signed after being persuaded before President Salva Kiir could make his remarks. The group's leader Gabriel Changson signed the document," the source said.
"I am glad to announce that the alliance of other political parties eventually decided to join the consensus of South Sudanese. Now as you can see, the representative of the alliance is now signing the declaration," al-Didridi Mohamed Ahmed, Sudan's minister of foreign affairs announced.
The cause of the group's initial concerns remains unclear.