Opposition alliance agrees on unified consultations on peace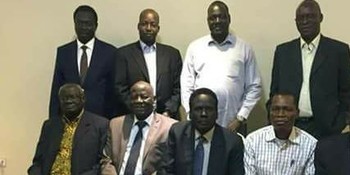 Nine rebel groups that make up South Sudan's opposition alliance agreed on a joint consultation at the upcoming peace deal revitalization by the Intergovernmental Authority on Development (IGAD).
IGAD is an eight-member economic bloc that brings together Ethiopia, Djibouti, Somalia, Sudan, Eritrea, South Sudan, Kenya and Uganda.
In a statement dated 27 March and seen by Radio Tamazuj, the groups said they had one common position throughout the last two rounds of the peace process.
Therefore, in the consultations the IGAD intends to carry out between now and the 26th of April, we would like to be consulted as one entity," the letter reads in part.
The opposition alliance, in the letter to the IGAD Special Envoy, said the Juba government cannot be both a party to the conflict as well as part of the mediation, pointing out that South Sudan government should be recused when IGAD is acting as mediator on the South Sudanese conflict.
Signatories of the opposition alliance included Gabriel Changson, leader of the Federal Democratic Party, Thomas Cirillo, leader of National Salvation Front, Lam Akol, leader of South Sudan's National Democratic Movement, Hakim Dario Moi, chairman of PDM, Bapiny Monytuil, chairman of SSLM/A, Bangasi Joseph Bakosoro, chairman of National Movement for Change, Costello Garang Ring, leader of South Sudan Patriotic Movement, Pagan Amum, leader of SPLM-DFs and Peter Gatdet Yak, chairman of South Sudan United Movement.