By Joseph Oduha -
3 Aug 2018
Opinion: The loose solidarity in South Sudan's media sector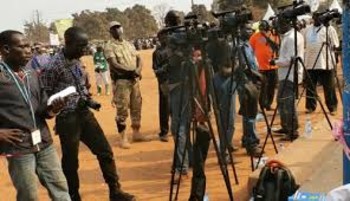 Journalism as a noble profession is facing its worst in South Sudan.
The media in the young nation has been intimidated and divided. Reporting from this young nation is one of the hardest jobs nowadays.
The power wrangle between President Salva Kiir and his former deputy Dr Riek Machar in December 2013 has shattered the national cohesion and brought significant violence and bloodshed.
Deaths, harassment, arbitrary detention, summons, torture, intimidation and killing are the ultimate prices that journalists pay for refusing to censor themselves and continuing reporting on violence, human rights abuses, rampant corruption, rampant rape and sexual violence against women and girls.
So far, dozens of journalists have lost their lives in line of duty in South Sudan, particularly in 2015 in which seven journalists were murdered.
The young nation has constantly been ranked among the worst countries in the world to practice journalism since it became an independent state in 2011.
To date, several South Sudan journalists are living in exile for fear of persecution by the authorities for alleged negative reporting of the country's affairs.
The South Sudan government has been spotted the first violator of press freedom, before other actors. This was proved after the shutdown of several news outlets in 2015 and 2016 respectively. These arbitrary closures are extremely worrying and represent climate of attacks on democratic freedoms.
The landlocked country remains beset by five years of violence, human rights abuses, economic collapse and poverty.
The authorities have been targeting certain media outlets and some individual journalists in order to motivate self-censorship among the rest. This strategy of selective repression has been pioneered immediately after the eruption of violence in December 2013 and it has been rooted till to date.
The persistent attacks against reporters and media owners threaten press freedom and the growth of the would-be independent media in the oil-producing country.
However, the absence of solidarity within news rooms in the war-torn state is a seriously debilitating factor. It prevents journalists from expressing their views freely and engenders self-censorship.
It is also responsible for the escalation of impunity against journalists in the east African country.
According to the English dictionary, solidarity means supporting each other, reciprocity, fellowship and equality. This is more about people or groups of common purposes and goals caring for each other.
Media collectively have a common objective. They inform, educate, and entertain the public. Journalists are the watchdog of the society.
Prior to the crackdown on the Burundi press in 2015 for instance, the small but unified Bujumbura press was a force to be reckoned with. Working closely together, it was very difficult for authorities and other actors to censor their reporting in what would otherwise be a very repressive atmosphere for press freedom.
If we could just have this kind of solidarity in South Sudan, obviously we could have save some lives of our colleagues and mitigate the threats against members of the press in the young nation.
Because of lack of solidarity, our press is being shattered. Some media practitioners are not independent, some are or less propagandists, apologists, which hurt national cohesion.
It is worth noting that the press lobby groups such as Union of Journalists of South Sudan (UJOSS) and Association for Media Development in South Sudan (AMDISS) who are to advocate for a free press environment have been mute about the increasing attacks on media freedom in the war-torn state.
Their silence represents their failure to question the authorities and held them accountable for the attacks on media freedom. Unfortunately their silence compromises the safety and protection of journalists.
The trends of political and tribal division, occasioned by the conflict, have inflicted the media industry in the young country. It is the same thing UJOSS and AMDISS including media owners are facing now.
It is very unfortunate that the media in the young nation have lost content and public trust.
This is putting journalism as a profession at more risk.
However, with the new development of the peace process, we remain hopeful that the current peace offers opportunities for media solidarity and also for journalists to practice their profession in an atmosphere of peace and press freedom, in order to promote democracy and a culture of peace.
Generally, when media get united it is good for democracy and freedom.
More solidarity within South Sudan press in general is greatly needed for safety and protection of our journalists.
With this absence of solidarity, we must admit as media in south Sudan that we have failed ourselves and we have failed the profession as well as the country.
We must as media mend this loose solidarity to restore media content and fame in this country.
The author Mr. Joseph Oduha is a South Sudanese journalist. He can be reach through abunabet@gmail.com
The views expressed in 'opinion' articles published by Radio Tamazuj are solely those of the writer. The veracity of any claims made are the responsibility of the author, not Radio Tamazuj.