BY DANIEL LASUBA -
17 Apr 2020
Opinion | South Sudanese should change their lifestyle to prevent the spread of Coronavirus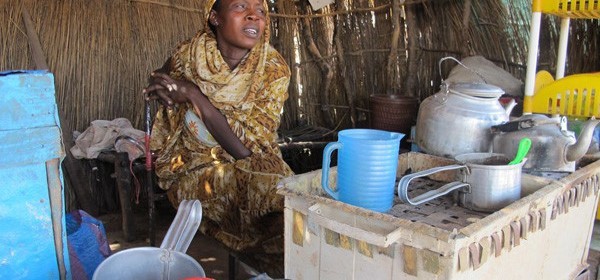 File photo: A woman selling tea in the village of Goli in northern Abyei (Enough Project / Amanda Hsiao)
So far, the world has registered over 1.8 Million infected persons, over one hundred and fifteen thousand deaths and slightly over four hundred thirty-four thousand cases that recovered from the COVID-19 pandemic. All the affected countries all over the world are implementing a raft of measures to contain the spread of the deadly virus in their respective countries, which include but not limited to suspending or banning international flights , closing borders, curfews, shutting down non-essential and non-food businesses, restricting movements of people, banning social, cultural, political and religious events to tame the mass gathering of people to prevent the spread of the deadly virus.
The World Health Organizations says that COVID-19 can be easily transmitted through droplets via coughing and sneezing from an infected, or through touching surfaces where an infected person sneezed or coughed on, or coming into close contact with an infected person through handshake or hugging and mingling in crowded places with people.
Therefore the World Health Organization (WHO) and the Ministry of Health (MOH) in the Republic of South Sudan advise the public wash their hands frequently with soap and water for at least 20 seconds or use sanitizers, don't shake hands, avoid close contact with anyone, cover your mouth and nose with tissue or cough and sneeze inside your flexed elbow and finally stay home and avoid travel when you have flu like symptoms. The public are also advised to observe social distancing and avoid social gatherings. It further advises the public that if anyone has the sign and symptoms of Coronavirus which are fever, dry cough, difficulty in breathing and tiredness, they should call the Ministry of Health's Toll number 6666.
The High-Level Taskforce in return reinforced this preventive measures announced by the World Health Organization and Ministry of Health by suspending all international flights, closing schools and universities, suspending sport events, closing all the boarders, introducing a curfew from 8:00 p.m. to 6:00 a.m.; banning all social, cultural, religious and political gatherings in the country and shutting down all non-essential service providers and non-food stuff shops to cease operations to support the efforts to prevent the spread of Coronavirus in the country. The Revitalized Transitional Government of National Unity's High Level Taskforce on COVID-19 under the leader of H.E. President Salva Kiir and Deputised by the First Vice President Dr. Riek Machar has been very proactive in taking effective and time decisions since its formation to prevent the deadly virus from entering the country and tame the spread of the same, though the country registered four cases last week.
However, the issue about implementing the preventive measures aimed to prevent the spread of the deadly virus remains majorly due to the lifestyle of South Sudan, whom some remained rigid, defiant, disobedient and reluctant to implement the measures aimed to help them protect themselves, families, communities and the nation. For example, regardless of the High Level Taskforce on COVID-19 directives some South Sudanese continue going about shaking hands and hugging while women kiss each other on the chick as usual jokingly saying that "Coronavirus can never survive in the heat of our country"; some churches continue to conduct church services and prayer meetings under the pretext of continuing to pray for the nation attracting social gathering defying the directives banning religious events and social gatherings; some South Sudanese continue to gather in big numbers at funeral places where social distancing is not often observed. Our markets are congested with businesses going on as usual especially hawkers selling their goods on the roadsides; some public transport drivers continue defy the directive to carry half capacity of their buses in broad day light. Some businesses that are allowed to operate under the High-Level Taskforce on COVID-19 directives don't provide clean water and soap or sanitizers for clients who would visit their business places to buy goods or access essential services.
Writing from a South Sudanese perspective I understand because South Sudanese lifestyle is based on Communal setting of a lifestyle that depicts the importance of living together as a family, community, clan or tribe but not individually. For example, when a man wants to get married it is a family, clan and tribe's affair, not only the man's affair. Sometimes the lady could be the choice of the family to their son. Therefore, the family, community, tribe and the extended family play a key role in the event oppose to what happens in Europe where it is an individual affair. Therefore, South Sudanese have strong communal bonds and ties where people show love and affection through handshakes, hugging, where people embrace each other in social, cultural and religious events. Shaking hands, hugging and physically embracing each other in public is a normal social norm.
Just to give further examples, I observe South Sudanese socialize at tea places and shisha joints sitting in close proximity taking tea and puffing shisha from the same pipe in most of our towns and residential areas, this raises a concern. Some football watching clubs in the residential are full with youth socializing and sited in close proximity as well playing cards, dominos …. etc. in an open disregard to social distancing and social gatherings directed by the High-Level Taskforce on COVID-19 Pandemic. I further observe South Sudanese crowding and scrambling at bread bakeries to buy some bread for their families disregarding social distancing. All these social behaviors and others must change for us to prevent the spread of COVID-19.
With that said I observe that majority of South Sudanese are not taking the preventive measures seriously. It is life as usual, hence this presents a high-risk behavior that requires concerted creative Risk Communication interventions from the relevant institutions and partners to invest more on COVID-19 awareness raising and social mobilization efforts to raise to a higher level to change the behavior and attitudes of South Sudanese. Many ignorantly believe that the virus infects non-South Sudanese since our first three cases were non-South Sudanese, others think the virus can't infect black people and even if it does they won't die, meanwhile others believe that the deadly virus can't survive the hot weather of South Sudan and on the other hand others believe that some of South Sudan traditional herbs can cure Coronavirus. All these misconceptions need to be corrected by the experts to continuously educating the public. Relevant concerned stakeholders need to adopt more Risk aggressive Risk Communications awareness strategies to maximise impact and achieve behavioral and attitude change.
South Sudanese should be supported to reach a level to voluntarily adopt the COVID-19 preventive measures announced by the World Health Organization (WHO), Ministry of Health (MOH) and the High Level Taskforce on COVID-19 and incorporate them to their daily lifestyle and activities for us as a country to manage to effectively combat and prevent the spread of Coronavirus in South Sudan. Implementing the preventive measures on COVID-19 requires an individual responsibility towards protecting oneself, families and communities before it becomes a collective or Communal responsibility. That is why experts say combating and preventing the spread of Coronavirus starts with observing personal hygiene.
South Sudanese need to change their behavior and attitudes by adopting to avoid shaking hands, avoid close contact with anyone, observe social distancing and avoid social gatherings, crowded and congested places. It is possible to easily contract the deadly virus via simple handshake with an infected person and getting into a close contact with even the closest people who could be infected but not showing symptoms; by simply saying "ah this is my friend or family member, I know him/her. It's okay I can shake their hands". There was a case of a man who returned from abroad in one of the neighboring countries and he didn't quarantine but rather he immediately went home to his family. In less than a week he developed symptoms and when he was taken for test, he tested positive for COVID-19, and afterwards when his family was quarantined and tested, it was discovered his wife and daughter contracted the virus from him. To learn from this example, we should observe the preventive measures to protect ourselves, families, communities and country
The High-Level Taskforce on COVID-19 should come up with more detailed guidelines especially in relation to social gatherings in churches, weddings, funerals and others if there are any exemptions granted. All businesses that are operating providing food and essential services should have containers with clean water and soap or sanitizers at visible locations in front of their business places for public visitors to wash. All public transports should have sanitizers for passengers to apply to rub their hands before they board public transport or buses. Relevant INGO's and NGO's should support communities by providing containers with clean water, soaps and sanitizers in marketplaces, bus parks and other congested locations.
The Media should continue to disseminate accurate and consistent information about Coronavirus from the Ministry of Health and the World Health Organization to continue educating and updating the public about the deadly virus. This consistent information should be well researched and produced in different media formats and medium. These media dissemination efforts should be presented in all South Sudan local languages so that the information about the Coronavirus could be spread across the whole country.
Given the media infrastructure in the country, especially the Community Radios can take lead in this efforts to change the behavior and attitudes of South Sudanese by informing and educating the South Sudanese public about the dangers COVID-19 pandemic through Public Service Announcements (PSA), radio drama, infomercials, informative and educative interviews, talk shows and penal discussions and interactive programs with audience. This Public Health Education and Awareness Campaign on COVID-19 multifaceted approach through effective radio programming can positively contribute to South Sudanese behavioral change and adapting to the preventive measures aiming to prevent the spread of the Coronavirus in the country.
Defaulters and violators of the High-Level Taskforce on COVID-19 directives should be presented before a competent court of law to answer for their illegal acts to serve as an example for the public to note that these measures are serious because COVID-19 is a matter of life and death as referred to by one of the world leaders. The High-Level Taskforce on COVID-19 directives should be enforced, because it is for the interest and safety of our beloved country South Sudan and more importantly COVID-19 is a health national thread not only to South Sudan but to the whole world. Together we shall defeat COVID-19.
Daniel Lasuba is a Media and Communications Professional.
The views expressed in 'opinion' articles published by Radio Tamazuj are solely those of the writer. The veracity of any claims made are the responsibility of the author, not Radio Tamazuj.