By Beny Gideon Mabor -
6 Jul 2018
Opinion: South Sudan National Dialogue: Optional Framework For Conflict Resolution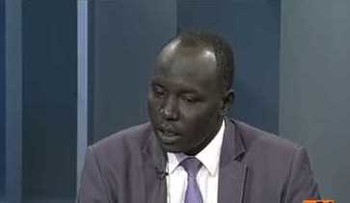 Executive Summary
Following the independence of South Sudan on 9 July, 2011, it was clear that there were serious internal grievances amongst South Sudanese themselves such as inter and intra- communal violence. There were also armed conflicts within different political movements for the last 39 years of liberation struggle, back dated to first war from 1955-1972 and again from 1983-2005 all of which have not been adequately addressed[1]. These conflicts did great setback to the unity of internal front during the civil war. As a matter of necessity, South Sudanese ignored these internal conflicts compared to what they considered as real threats of extermination by the bigger enemy. In the concept note of the Church Leaders Mediation Initiative (CLMI), it is noted that the history of South Sudan has kept South Sudanese focused on defeating the common enemy, rather than generating dialogue and building consensus on who we are as a nation, why we belong together and how we can unite in our destiny".[2]
National dialogues have ever since proven to be one of the best frameworks for conflict resolution throughout the world and many examples of successful national dialogues are found in Africa and the Middle East. The outcome of my shuttle consultations amongst various actors of South Sudan and some quarters of the international community shows that national dialogue agenda coupled with strong political will can help renew the social contract and rejuvenates the democratic reconstruction of a country particularly those undergoing conflict or exiting cycle of fragility. In some cases, it turns out that the holding and outcome of national dialogue produce mixed outcome as some work well while others were just seen as forum-shopping to renew political legitimacy by the government of the day. Examples of such national dialogue processes are recent Sudan national dialogue where over forty political forces were brought and highly floated coalition government was formed.
The concept of national dialogue usually came as a result of breaking cycle of monolithic and patronized system of governance to an-inclusive participatory constitutional governance. In other words, one of the options to break an elite governance arrangement is through national dialogue process which will create an independent platform for all stakeholders to have honest conversation at different categories and provoke locally generated solutions: First, there ought to be dialogue between citizens versus government on issues of social contract, national identity crisis and enforcement of socio-economic and political rights through constitutional making process.
Second, inter-party dialogue on institutional reforms, system of governance and fundamental freedoms in multi-party democracy and finally inter-communal dialogue to spell out about underlying causes of communal conflicts and ways to address these issues beforehand. The government and the international community should provide security to enable them freely and friendly express their grievances and propose solutions. For the inter-party dialogue, all political forces should come together and choose from amongst South Sudanese eminent personalities or such persons from outside South Sudan to lead facilitation with honest view to come out with clear chart of political consensus.
Another important aspect of successful national dialogue is the role of international community. However, such role depends on the context and respect of the principle of local ownership so that international community should not be biased or overstep their mandate. In my consultation with senior government officials and others, a senior adviser to the government of South Sudan stressed the question of local ownership and that national dialogue must encompasses all relevant national stakeholders with link between the political and grassroots levels, so that people feel their interests are represented[3]. In some instances, the international community may provide technical and financial support to national efforts; while in other situation, they are called upon to assume a more active role as a guarantor of the neutrality and transparency of the process.
In either case, a balance approach must be struck to allow the international community fulfill some roles and the need to ensure that this does not lead to putting local ownership in the shadow or erode local ownership at all. The question now is which way to go in South Sudan context between direct and indirect role of the international community in the proposed national dialogue. In my view, the role of international community should be indirect to a subsidiary support to the role of national actors. The international community should provide support less through traditional honest broker mediation characterized by short term or even one-time intervention to the benefit of more general long-term peace facilitation and building up internal capacities for peace processes.
Finally, there is no uniform precedent for a successful or failed national dialogue to learn from it. It depends on the prevailing conditions and the interests involved and finally political willingness and agreed implementation mechanisms. Generally, it is worth noted that national dialogue must pass through three prerequisite procedures namely: preparatory phase in order to build confidence in the process, including agreement on the format, agenda, selection of a convener, who may be national or foreign personality or an institution and a conducive environment for the national dialogue. The second step is a deliberative phase including venue whether inside or outside the country, dispute resolution mechanism, particularly agreement on some sets of rule of procedures on decision making, and finally implementation phase where all stakeholders and development partners commits to implement the outcome of the national dialogue.
Introduction
South Sudan is a country born out of many accumulated grievances over years that the leaders and citizens themselves did not find time to sit down and dialogue. As noted in the book on reconciliation, healing and peace in South Sudan by Bishop Rt Rev. Dr.Eduardo Hiiboro of Catholic Diocese of Yambio-Tombura, he said "if we don't meet, if we don't sit around a table to open our hearts and discuss matters and admit that we are all responsible for the wrong we've done, there will be no way out, no hope for the future, no future justice, no future peace"[4]. Indeed, the idea for a national dialogue in South Sudan have been discussed and explored for a long time under different names at different times, over the course of many years. In summary, the religious groups were amongst the first to talk about holding national dialogue in their understanding and context, while the think-tanks and civil society organizations also talk of national dialogue, however, all aimed to heal unresolved grievances and untold sufferings in the country.
As an independent country, South Sudan was supposed to undergo national dialogue at earlier period, but unfortunately slip into another war in mid-December 2013 that is currently dismantling socio-economic and political fabric. In the peace agreement signed later in August, 2015, the call for national dialogue was taken care. The peace agreement provided components of transitional justice mechanisms on the truth telling about what happened during the war, the reconciliation and healing process; the hybrid court for serious criminal offences and reparation of victims of armed conflict. These are important processes that are inextricably linked to the success of national dialogue, largely individual or collective or grassroots-based in nature. Despite these good attempts, the concerns raised so far is how can the transitional justice components feed into the national dialogue be decreed by a single authority like the President given the lowest level of trust amongst South Sudanese society.
On 14 December 2016 President Salva Kiir Mayardit, announced the national dialogue that his government is going to invite all South Sudanese to hold a national dialogue. In the concept note, President Salva underlined issues including raging conflict and political violence, humanitarian crisis, questions of governance, and the politics of unity or exclusion, the economy, poverty and the widening economic disparities between elite and the citizens[5]. Prior to this announcement, other stakeholders have already proposed scope and themes for discussion in the national dialogue some of which are similar with government national dialogue while others differed. So far, the Ebony Centre for Strategic Studies amongst others recommended four issues to consider: citizenry, development, democracy, and leadership[6].
At the generic of state and nation building, citizenry is the foundation of a functional nation-state. The mechanism for the process of internalization is the social contract between the state and its citizens. The government of South Sudan at all levels signed a social contract with the people of South Sudan in the following terms: The offer made by the people are to vote the public officials into office, defend the sovereignty of the State from both internal and external threats and aggressions; while consideration in return by the government is the provision of basic services, security and safety of citizens' lives, properties and their territory. According to John Locke theory of social contract, he said "if the government failed or refused to discharge its duties, it must then be made clear that it is the very government that have rebelled against the citizens and therefore the citizens have right to remove such government by elections or other means that violates its social contractual obligations.
Why holding national dialogue? In principle, there are various reasons in both scope and application to conduct national dialogue: some aimed to resolve specific rights or tensions and to redirect the public discourse in a more constructive way. Others seek to building consensus around a new system of governance while other national dialogue can held to develop sectoral policies to convert previously agreed priorities and principles into action on the ground such as education, water, health, economic growth and development amongst others. So where do South Sudan fall in these categories of dialogue? I think South Sudan national dialogue is concerns with all these requirements and therefore a cross-cutting theme is a way forward.
Agenda of National Dialogue
The primary objectives of the national dialogue in the understanding of different stakeholders including civil society and religious groups amongst others is to act as an instrument to resolve political crises and pave the way for political transitions and sustainable peace and development. Above all, there is consensus that political dysfunctionality is reason that has undermined national security and economic development. Therefore, the agenda will have to be wide-ranging to tackle six common problems ailing South Sudanese State which have been observed across the board for many years without political will to address them. In this regard, the Ebony Centre for Strategic studies and some individuals academic proposes the following topic to be discussed at the national dialogue: a) reconstructing the South Sudanese State (i.e. call for a federated system of governance); b) a new social contract between the State and citizenry) post-conflict repatriation, relief, resettlement, rehabilitation, and reconstruction (5Rs Program; c) the role of the military in politics; d) transitional government of national unity ; and e) justice, truth and reconciliation process. However, the list is open and any suitable agenda can be added to comprehensively address the problem of leadership and governance.
Participants of the National Dialogue
The challenge facing the national dialogue is the balance of inclusivity so that it can produce locally generated and acceptable outcomes. However, such dialogue must take into consideration all sectors of society in order to avoid repetition of previous historical mistakes. For example, this dialogue must learn from the mistakes of Juba Conference of June 1947 as well as the SPLM first National Convention of April 1994 where some sectors of South Sudanese were not represented.
On who to attend the national dialogue process, the following stakeholders are expected to participants 1) all the registered political parties through proportionate representation on the basis of membership in the NLA; 2) faith-based organizations; 3) civil society organizations; 4) representatives of universities and research centers; 5) traditional leaders; 4) representatives of national and state legislative assemblies 5) representatives of chamber of commerce (national and subnational structures; 6) Farmers Association (national and subnational structures; 7) workers union (national and subnational level; 8) women association (national and subnational levels; 9) youth union (national and subnational levels; 10) South Sudanese Students union at all levels and finally 11) representatives of organized forces[7]
Besides challenge of balancing the composition of national dialogue, there is an unanswered question on who would facilitate such a multi-stakeholder forum. Of course, one of the principles of national dialogue is that it must be chaired by an independent person or group of people or institution that must not be part of the problem to be solved. This rise the question whether President Salva Kiir who announced the national dialogue and put himself as the patron is an independent person or part of the problem to be solved? And the answer is clear that he is not independent and of course a major part of the problem to be solved and therefore he is not neutral to lead the national dialogue process. As time goes by, President Salva kiir made a wide decision to step aside from the patronage of the national dialogue. Such latest move proves serious on the side of the President and has shown glimpse of credible national dialogue process.
Another contentious issue is the venue of the national conference. others are afraid that it should be held outside South Sudan while majority argued it can be done inside South Sudan, though not necessarily in Juba. For those who supported holding it in South Sudan, opinions suggested that Rumbek or Torit would be right place in the light of their historical relevance to the national liberation processes and Rumbek in particular was last place where successful national dialogue was held in November 2004 during the SPLA/M[8] Senior Officers conference where serious differences within the rank and files of the SPLA/M revolutionary movement and more specific the fallout between the then chairman Dr. John Garang and his deputy Salva Kiir Mayardit at the time were resolved.
After careful gathering of all requirements leading to the national dialogue, the following recommendations are prerequisite conditions to successful national dialogue:
The government, armed and non-armed opposition groups assisted by the international community should initiate a political process that support the peace agreement and not to replace it either. According to Professor Mahmood Mamdani, of Columbia University and member of the African Union Commission of Inquiry on South Sudan, argued that "If you presumed that the way to resolve the conflicts is to mark your adversary as an enemy and to exclude that enemy from the political process, then you have ruled out a political solution to the conflict"[9]. Of course as a matter of fact, South Sudan conflict is not only a criminal violence that call for only individual criminal accountability under the international law, but it is a largely a political violence that need the coming together of the political belligerents and chart ways to end violence.
This political process can be done in a neutral country agreed by all parties to bring all warring parties on board under than one umbrella so that the government and such joint opposition forces work out to resuscitate the peace agreement and further workout guidelines for national dialogue. It is therefore important in that political process for all stakeholders to define the specific mandate and goals of national dialogue to help safeguard the peace agreement and prevent its manipulation by any party.
The government should establish amnesty commission and operationalize it by enabling legislation that shall regulate issuance of amnesties to all belligerent parties, other non-armed opposition outside the country and other dissenting opinions, that have denounce an act of violence or armed rebellion and voluntarily decided to come on board for national dialogue to discuss the above six points in a secured and guaranteed environment.
The government and armed opposition must announce permanent ceasefire and assume full responsibility of human security for all persons during the course of the national dialogue alongside protection by international community. The UN Mission in South Sudan and the Regional Protection Force (RPF) could be key subordinates national security forces. The dialogue succeeds only where all parties are free to say whatever they want to say without fear of reprisal or threat of liability. It is therefore recommended the issue of security of a person must be guaranteed. Lack of fear leads to confidence in the system and when people develop confidence in the system, then they are able to compromise and when they compromise is reached without fear then that is the true reconciliation and healing process[10].
Visibility and transparency of the national dialogue process. This is a major requirement for any successful national dialogue before it kick-off. It is important for the national Dialogue Steering committee to develop communication strategy to raise awareness on the dialogue amongst the stakeholders' including lowest level of citizenry. South Sudan national dialogue should follow foot step of Burundi and South African national dialogue where public relations strategy were created to raise awareness and ownership of the dialogue process even in the remote part of the country. However, this must be accomplished by positive use of media coverage to positively sell the agenda to the understanding of the people.
Mabor, Beny Gideon (2013) Lack of national identity is a cry of the owl for South Sudan
Concept note of the Church Leaders Mediation Initiative, CLMI, on the national dialogue
(February, 2017) Justice Africa Assessment Mission on South Sudan National Dialogue
A prologue of the book on reconciliation, healing an peace in South Sudan by Bishop Eduardo Hiiboro Dr Kussala of Catholic Diocese of Yambio-Tomura
Speech of President Salva Kiir to the Transitional National Legislature on 14 December, 2016
A Conceptual Framework for Resolving the Crisis of Governance and Leadership in South Sudan: a paper Presented to the Development Policy Forum (DPF) on 19 July 2014
Ibid
Sudanese People Liberation Army and Movement SPLA/M
Mamdani, Prof. Mahmood (30 March 2017): Global Perspectives: How should we think of justice? Lessons from South Sudan, British Academy, London, UK
Joensuu. National Dialogue and Internal Mediation Processes: Perspectives on Theory and Practice. Conference on National Dialogue and Mediation. Ministry of Foreign Affairs, Finland
Beny Gideon Mabor is an attorney and South Sudan Human Rights Commissioner. He holds Law Degree from the University of Juba and a Post-graduate Diploma in Legal Practice at the Institute of Legal Practice and Development ILPD in the Republic of Rwanda. He is a member of South Sudan Bar Association, South Sudan Law Society and Pan African Lawyers Union amongst others. His research interests are areas of politics and governance, human rights, and transitional justice. He is reachable via: benygmabor@gmail.com.
The views expressed in 'opinion' articles published by Radio Tamazuj are solely those of the writer. The veracity of any claims made are the responsibility of the author, not Radio Tamazuj.
---
[1] Mabor, Beny Gideon (2013) Lack of national identity is a cry of the owl for South Sudan
[2] Concept note of the Church Leaders Mediation Initiative, CLMI, on the national dialogue
[3] (February, 2017) Justice Africa Assessment Mission on South Sudan National Dialogue
[4]A prologue of the book on reconciliation, healing an peace in South Sudan by Bishop Eduardo Hiiboro Dr Kussala of Catholic Diocese of Yambio-Tomura
[5] Speech of President Salva Kiir to the Transitional National Legislature on 14 December, 2016
[6] A Conceptual Framework for Resolving the Crisis of Governance and Leadership in South Sudan: a paper Presented to the Development Policy Forum (DPF) on 19 July 2014
[7] Ibid
[8] Sudanese People Liberation Army and Movement SPLA/M
[9] Prof. Mahmood Mamdani (30 March 2017): Global Perspectives: How should we think of justice? Lessons from South Sudan, British Academy, London, UK
[10] Joensuu. National Dialogue and Internal Mediation Processes: Perspectives on Theory and Practice. Conference on National Dialogue and Mediation. Ministry of Foreign Affairs. Finland