By Deng Vanang -
21 Aug 2018
Opinion: Kofi Annan: a portrait of hope in turmoil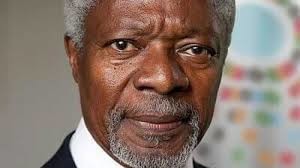 Kofi Atta Annan, a UN's Seventh Secretary-General from 1997- 2001 and first of its kind to run the world body from sub-Sahara Africa peacefully passed away on Saturday aged 80.
And equally honored peace Nobel Laureate due to his untiring work for world's peace spanning well over 60 years ever since 1962 when he joined the UN.
His successful career left much to humanity to reflect on a fallen hero who wore the hat of career diplomat adorned with a feather of rock star status.
Whose distinguishable achievement inside the world body lied in raising its profile in global politics during his ten years' term in office.
Raised on his soft spoken voice, while thinking aloud charismatically with diplomatic demeanors of eloquence, etiquette and decorum to match.
His flowering history deserves the deepest reflection, particularly when he and those who hold the moral compass to guide us to safety away from guns wielding goons are no more.
These moral leaders although no saints, are indeed closer to them and set apart from their morally soiled peers.
They are the flickering bacons of both good and hope in stilt darkness.
More of a standard with which we measure the process of progression and regression in our day to day lives.
The moment one of them disappears before our eyes, the more our spirits sink in an immortal moral grief.
For it is likely an ominous sign that men of destruction will now engage in an illicit trade without anybody jolting their devilish conscience.
One of these moral men and women from whom we learnt what makes a leader, especially in Africa, are revolutionary Gamal Abdel Nasser of Egypt, visionary Thomas Sankara of Burkina Faso and saintly Julius Nyerere of Tanzania.
Others are magnanimous Nelson Mandela of South Africa and environmentalist Wangari Maathai of Kenya.
Now bringing up the rear into political eternity is a world-class intellectual and consummate diplomat or man of peace as none other than one Kofi Annan of Ghana.
Who might have faults like any other human beings, but his so many good deeds have dimmed those faults which should have been attributed to others.
Put off a couple of raging fires in the troubled world stoked by much more powerful men than him while at the helm of the UN.
There he learnt his lesson in a tougher way that so called UN is the proofed up moral smokescreen under which world powers run their evil errands.
One of these evils maliciously perpetrated under his watch that summed up his emotional lows in a lengthy diplomatic career were Rwandan genocide in 1994, Bosnian war in early 1990s and Iraqi invasion in 2003.
While one of his timely and triumphant interventions to nip in the bud what was a quickly sprouting out destructive civil war was none other than Kenya's post-election violence in 2008 long after he left active humanitarian service in the UN.
Hoped from one plane onto another monitoring predominantly bungled elections in Africa.
Among them the recently held Zimbabwean election in which his failing health increasingly deteriorated and never to wake up and preside over any other election again.
Fare thee well Mr. Annan, the more formidable, but still memorable pride of Africa.
The author can be reachable at: dvanang@gmail.com
The views expressed in 'opinion' articles published by Radio Tamazuj are solely those of the writer. The veracity of any claims made are the responsibility of the author, not Radio Tamazuj.