By Santino Ayual Bol -
16 Nov 2018
Opinion: Is the recently signed peace holding or not?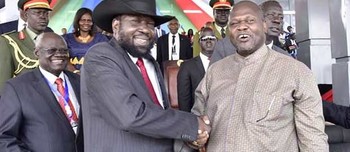 South Sudanese intellectuals and academics who have been following critically the peace processes starting from the initial face-to-face meeting between President Salva and Dr.Riek Machar on the 22nd June this year in Addis Ababa, followed by a series of meetings in Khartoum and initialing and their eventual culmination in revitalized Addis Ababa Agreement on 12th September 2018 would no doubt hope that something fundamentally positive is in the offing in South Sudan.
The following paragraphs are analysis on the peace implementation processes, where positive steps have been carried out, and the writer's words of the encouragement to the two princes of our land to keep up this latest positive moves in the peace implementation and save our long suffering people and country from the shames of war entrapment.
The deep spirit of mutual concurrence and regret among the warring parties as to the mindless destruction on the lives and properties of the largely innocent South Sudanese people by this futile internecine war which has further badly tarnished the image of the young country globally was obvious among and in the faces of the delegates. President Salva Kiir was reported to have instructed his chief negotiator Hon.Nhial Deng Nhial and his team to" do whatever possible and give whatever compromise and position the SPLM/SPLA-IO wants in order to come back to South Sudan with peace" while setting off from Juba to Khartoum. Dr.Riek further gave instruction to his delegation in their NCP (National Congress Party) offered accommodation hotels/houses in Khartoum to" negotiate peace without preconditions and to drop the hardline position present in previous negotiations and agreements by SPLM/SPLA-IO that called for two separate armies in one country."As such both President Salva Kiir and Dr.Riek deserve eternal gratitude and support for such sudden positive turning points in the life of our young nation and should keep this momentum and keep it that patriotic way.
This is nothing short of a revolution in the real sense of the word. One would argue that indeed the better part of our nature is triumphing again over our bad one. If for sure we fought our archenemies together as one in recent liberation wars as well as in the wars of the distant past, why would it be difficult to proudly build our Great Nation South Sudan together in liberty, peace, harmony, and prosperity to the pride of our beloved kids, posterity and humanity at large. Those of us who were lucky to have been part of the great liberation struggle at tender ages, and who by God's mercy and choosing remained alive today, and who saw the decisive roles played by all our 64 plus tribes during that great heroic struggle would badly regret the magnitude of killings and destruction brought about by this mindless immoral war of 2013-2018 among our people which should have been avoided altogether.
It was an evil war that has nothing at all to do with being Nuer, Dinka, Shilluk, Bari, Lotuho, Zande, Anyuak, Acholi, etc. It was a war of political elite wanting to maintain or capture more fatty positions in government in order to continue with looting of public money with impunity which was the modus operandi from 2005 - 2013. The common folks in the villages were fooled into something they have meagre understanding about. The same fooled common citizens became the primary victims that took the lion share of killings, destruction and displacement.
Now that the same political elite are coming to agreement again to stay and share the same government again, the common folks in the countryside have no any reason at all not to have peace among themselves. They have no bones of contention whatsoever. They have no leadership positions to compete and fight about, and they have no access to national coffers to collectively put hands on and loot. The typical example is in the oil sector where the communities in the oil producing areas and South Sudanese at large do not know how much money accrue daily, monthly or annually from the same oil business.
Recent series of meetings between the two fighting forces of SSPDF and SPLA-IO in Wat, Yei, Pagak, and Raja/Wau are encouraging signs of a peace that seems to be starting to work well. Further, more recent decree by the Chairman and C-IN-C of SPLM/SPLA_IO Dr.Riek that all the humanitarian wing of his rebel movement should immediately relocate their offices in the bushes to Juba and amalgamate with government's Ministry of Humanitarian Affairs and RRC is very positive and is indicative of Dr.Riek's good faith in implementing the peace in spirit and letter. The arrival of Pre-transitional National Committee from the SPLA-IO side headed by the Vice Chairman Mr.Henry Odwar in Juba to kick-start the pre-transitional period arrangements is a sure sign that peace may work.
What is urgently required from both sides of the two parties are the following:
Rogue soldiers/armed elements still laying ambushes and doing the killings or looting along the high ways and bushes of South Sudan must be brought under control by both the SSPDF and SPLA-IO. Peace will be meaningless if killing of innocent citizens and our guests/visitors/traders along the highways do not stop right away and right now. South Sudan has been ashamed and tarnished enough by such mindless killings during the last 5 years of the conflict. It is time to feel sorry for the recent past killings not to perpetuate more of it. The government apparatus should bring under control this mindboggling stories of the bloody unknown gun men in urban cities specially Juba. Anyway we are not all fools. The unknown bloody guys are known but it only requires real government in the true sense of the word as elucidated clearly by a British Political Philosopher and writer Thomas Hobbes: The Leviathan to exert its control and power over its national territory, "life will continue to be brutish, laborious, nasty, and short "as is the case here in South Sudan.
Open all routes and means of communications and transportation such as roads linking South Sudan with itself and the region, River Nile transport from Juba-Bor-Malakal-Renk and vice versa, airspace with region and the world. SPLA-IO should even be the first to take urgent move towards this direction because its bedrock the Upper Nile was the epicenter of the war and destruction and would recover quickly if it opens its roads and river transport quickly and completely with Juba and neighboring countries. Failure to take this move would be a betrayal of the common people in Upper Nile and South Sudan in general pure and simple.
This time around both government and SPLA/SPLM-IO portfolios, committees, appointments decrees, etc should be free from tribal lope-sidedness and leaning and be national reflecting all the tribes and states. The party that will ignore this warning will fail flat in the next coming elections whichever 2020s I swear in the name of River Nile. The voters will not elect it. Get it well and correct.
Investment enterprises should not be focused in one region or spots but should be across the country. The country needs even development not one sided to keep people from migrating to those favored spots. This is to execute the neglected original vision of" bringing town to people not people to town." States and counties should be accorded equal chances for development unless if the ruling elites are not serious nationalists.
The issue of 10, 21, 32/3 states or 3 regions should be amicably resolved by the common people through plebiscite or referendum as was the case with independence and separation with the Sudan. It should not be left to political elite alone. Big NO. This also should not be politicized to be the cause of other killings of innocent people again. Big NO.
President Salva Kiir and Dr.Riek and their affiliates should be monitored closely by people of South Sudan, the region, and the International Community for any negative moves and words or strategies that may throw the country into another dangerous abyss. The political maneuverings like the events of July 21st or was it 23rd July 2013 to the so called SPLM Leaders meeting of 6th December 2013 and bloody SPLM Meeting in Nyakuron on 15th December 2013 should not be repeated for God's sake and the sake of our long suffering people in South Sudan.
Weird believes in traditional magics and myths should be discarded forever and open a new page of democracy and true belief in our common humanity common destiny and common goodness of all South Sudanese. Ngundaeng, Dengdit, Kujur, or Jujus everywhere in South Sudan were of late given unnecessary futile focus and importance by our people including some quarters among the political elite to the worst detriments of the country and its people. Satan for greed purposes was given full reign from 2005-2013. It is time we learned and get converted to the right tracks of doing modern politics and religion. The author is afraid but it seems Christian values some South Sudanese Christians profess openly to follow were very much crucified on the altars of tribalism and Ngundaengism during recent satanic period from 2013 – 2018. How would the killing of unarmed women, children, elderly, blind, disabled, mentally affected persons, even surrendered soldiers justify one's political vision? And to what benefits and good if the vital number one resource of the country which is its people are wiped out and killed? Would God smile and nod His Divine Head in appreciation in such events? No definitely not unless it is our own man-made deities.
Finally, President Salva Kiir and Dr.Riek deserve supportive nudging to continue in the latest track they have taken as evidenced by recent peace processes starting from Addis Ababa-Khartoum-Addis Ababa face-to-face meeting, and the series of negotiations that followed and brought the country the current promising stage. This writer crafted appeal opinion article in June this year shortly prior to the face-to-face meeting of our two princes in which wholehearted appeal was sent to them to listen to the cries and wailing of our people in the villages, POCs, and refugee camps. Recent events after that brotherly appeal convinced the writer that perhaps the two princes read the appeal and many other nationalistic appeals by many other patriotic South Sudanese writers. This author is again continuing with the same elevated spirit to appeal to the fathers of our great country to continue with this no return journey and bring total peace that will last for 1000 years. South Sudanese people have fought a war whose magnitude mirrors that of World War I & II (1914-1918 & 1939-1945) in Europe and The Great Civil War in the US from 1861-1864. The Americans learned from the follies of that Great Civil War whose central argument was slavery or freedom and saved their cherished union of the 50 states to the present. The Europeans fought the two World Wars as alluded above in the 20th Century whose main gist was/is the historical rivalry for supremacy and superiority between the Germans and the Frenchmen. Europeans fought wars whose magnitudes of barbarism, destruction and killings have never been seen in mankind's known history. However, good nature always wins over evil nature. Nazi Germany was subsequently twice defeated in these two great wars and Europe was re-organized on new vision of European equality, common humanity and peace that would exist in Europe and the world for 1000 plus years replacing the crazy Nazi version of ruling the world for 1000 years. Old crazy national philosophies of Teutonic Supremacy, French arrogance and British imperialism which characterized Old Europe were discarded and thrown into the dustbin of history to usher in New Europe that we admire and take for models of peace, humanity, democracy, and prosperity today. South Sudanese should learn from their mistakes and save the sovereignty and independence of the Republic of South Sudan and the common humanity equality and dignity of South Sudanese people. May God bless our leaders with his divine wisdom to bring total peace to South Sudan and save us from mindless self-destruction. May God bless South Sudan with special peace never witnessed before.
The author can be reached via: ayual@students.uonbi.ac.ke
The views expressed in 'opinion' articles published by Radio Tamazuj are solely those of the writer. The veracity of any claims made are the responsibility of the author, not Radio Tamazuj.