By Dr Luka Biong Deng Kuol -
25 Aug 2018
Opinion: idealism and realism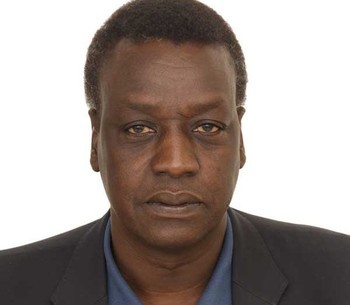 These two concepts are important in our daily life. It is easier to be idealist than realist as the later requires hard choices. As such we can all be dreamers but not realists. The case of Abyei is a good case to test these two concepts. When I posted my support to the initiative of Dr Francis to engage the two countries to provide services to the people of Abyei, I got mixed responses that I can categorize into realist and idealist respondents.
Idealists believe that the focus should be on achieving the outcome of community referendum and final status of Abyei and the initiative of Dr Francis may not help in realizing such ideal. Others stress what we want is freedom not development. They even see the reference to displaced persons in the initiative as acceptance that people of Abyei are citizens of Sudan but not knowing that our people were displaced to South Sudan in 2008 and 2011 and not to Sudan. They even argue that such initiative should be done by the government in Juba not knowing that Juba is so impotent in dealing with Khartoum as they have now surrendered the oilfields in Unity state to Khartoum. Juba is even unable to claim from Khartoum its share of oil revenue from Abyei since 2011 besides the fact it has failed to recognize the outcome of Abyei referendum and instead dismissed most senior civil servants of Abyei. Interestingly, the same idealists do see the current leadership in Juba is not only incapable but has no political will to negotiate with Khartoum the final status of Abyei. Paradoxically, they argue that we must wait for such initiative to come from the government in Juba despite its weakness and impotence.
Realists on the other hand support the initiative of Dr Francis but such initiative should not undermine the ideal of the final status of Abyei. They argue that the current status quo in Abyei is so appalling and if it continues people may dessert the area to Sudan. They argue, while waiting for the final status, efforts must be exerted to provide basic services and assist the return of displaced persons to their home areas with dignity. They argue that we have made our decision to be part of South Sudan and nothing will change that but we need services and development in the area.
Idealists vs. Realists: Idealists do fear to take initiatives and avoid blame and do enjoy criticizing any initiative without providing any alternative and would enjoy satisfying their conscience by doing so. In responding to idealists, who were critical in their comfort zones, of SPLM during the liberation struggle, Dr John used to tell them (idealists) that we (realists) are not perfect but at least we are doing something through liberation to change what is happening in Sudan but for you (idealists) you will not be criticized because you are doing nothing to be criticized. Realists are more likely to be criticized than idealists.
Idealism with Realism: In real life it is important to combine both idealism and realism as they complement each other. Being realist without ideals may take you nowhere and being idealist without realism would take you nowhere also. Combining the two concepts (idealism with realism) is necessary in navigating our journey in life. People of Abyei whether idealists or realists do share one thing in common to pursue the ideal of finding the final status of Abyei and the challenge is how to make few idealists to become realists and that is a thorny journey as idealists are susceptible to label the realists as betrayals and opportunists. The initiative of Dr Francis must meet the aspirations of idealists and realists and it should get the support of the people in Abyei (local administration, the parliament, civil society (women and youth) and traditional authority) as well as the government in Juba so as to secure its legitimacy and acceptance at all levels.
Idealism and Realism: Negotiating Sovereignty in divided nations: Let me conclude by the wisdom from the lecture of Dr Francis in 2010 at Uppsala University as UN Secretary General Special Adviser for the Prevention of Genocide in which he recognized the gap between the ideals of UN and its performance in achieving such ideals and the need to bridge such gap. "..we (idealists) should cry out loud, stand on the mountain-top and preach what is right and condemn what is wrong. However, when we do that, we might satisfy our conscience, but how much can we help the people who need to be helped in a practical way".
The author, Dr. Luka Biong Deng Kuol, is a Global Fellow of Peace Research Institute in Oslo (PRIO).
The views expressed in 'opinion' articles published by Radio Tamazuj are solely those of the writer. The veracity of any claims made are the responsibility of the author, not Radio Tamazuj.