By Yom Deng Bul -
11 Aug 2018
Opinion: I condemn the unlawful arrest of South Sudanese peace activist in a den of lion "Blue House"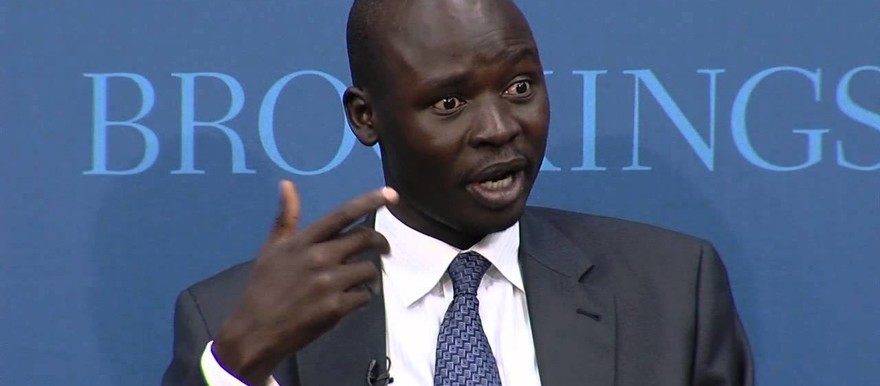 I am hereby appealing to the Government of South Sudan to unconditionally free and release South Sudanese political analyst, peace activist and founder of (SSYLF), Dr. Peter Biar Ajak who is a PhD holder from Harvard University in the US. Dr. Biar was among 26000 lost boys/girls of South Sudan who were resettled in the Western world in 2001. Dr. Peter Biar is among the lost boys/girls who were brought to the USA in 2001.
Dr. Biar was arbitrarily and unlawfully arrested on Saturday July, 2018 in Juba Airport. He was harassed and intimidated while boarding a plane to Aweil Town to attend a Red Army Foundation's anniversary as said by a good source. Dr. Peter Biar was inhumanely arrested by South Sudan National Security agents in the VIP terminal building. He was forced into a NSS car and transported to the Blue House, the NNS headquarters at Jebel in Juba where is being kept. There is no proper information about the charges levelled against him by National Security Service so far. There is no proper public notice about the arrest although all the media houses and magazines are shut down by the government in Juba.
Unfortunately, such pernicious and unlawful act of detention, false accusation and illegal imprisonment of individual South Sudanese political moderator, analyst, human rights and peace activist in South Sudanese is something very common in Juba. The South Sudanese National Security under Mr. Akol Koor can decide to illegally arrest anybody they want for no reasons. So such acts show misuse of power. Human rights abuses have amounted to war crime and crime against humanity. This has been going on in South Sudan since the country gained her independence on 9 July 2011. Addition to that, I am also appealing to all international human rights organizations and individual legal bodies in East Africa to join hands in advocating for the immediate release of peace activist from unacceptable detention.
Background to South Sudan's conflict
Leadership failure
The conflict in the Republic of South began on 15 Dec, 2013. It began as a misunderstanding within the SPLM ruling Party. Due to mistrust in the SPLA/M party, it mushroomed into all-out civil war that has engulfed the whole country. The war was fueled by mistrust and power wrangling within the SPLM party. It started as a misunderstanding between President Kiir and his former Vice President Dr. Riek Machar Teny who has become SPLA/M- IO chairman.
The ongoing war is sustained by the Government and its corrupt cartels including NSS agents. There was also malfeasant and stealing of public funds by the SPLM and its high ranking government officials, and the case of the 2008-2010 Durra scandal is one example. This had led to the disappearance of $6 billion in the economy. There is a constant human rights violation by both the government and armed opposition groups leading to abuses of intellectuals in major towns, women, children, elderly people and vulnerable youths.
The civil war has led to constant rebellion at various state levels and much worsts in Greater Upper-Nile region which is composed of Jonglei, Upper Nile and Unity States and currently the conflict has escalated in the Greater Equatoria region, and former Western and Northern Bahr-El-Ghazal States in the Greater Bhar El Ghazal region. This widespread violence is contributing to mass atrocities and abuses of citizens across the country and in neighbouring countries. Social services such as learning facilities have been destroyed due to the conflict, and civilians fled their homes leading to the increase in the number of refugees in the East African region.
Human rights abuses
The war in South Sudan is four and half years now, violence has escalated across the country and if the war doesn't stop, we will witness the worst. This is because the more the war is prolonged, the more it becomes complicated and complex. There is ongoing massacre of non-combatants which remains the greatest question on both sides. There is no security for intellectual South Sudanese like Dr. Peter Biar Ajak. One could be killed by any criminal agent known as unknown gunman in South Sudan. The warring factions continue to commit more mass atrocities and violation of many ceasefire agreements since 2014. The government in Juba had resorted to new tactic of inciting communities to go to war with each other and National Security had counted and recorded Juba populations and whoever comes as a new face in Juba is recognize and interrogated.
There is use of online hate speeches, fueling mass atrocities across the country. Individual supporters of the warring factions in South Sudan are using their tribesmen and women to help them preach hatred. This has led to an increase of abuses of sexual violence and sexual exploitation of South Sudanese women on the ground. There are extra-judicial killings, torturing of prisoners of war, inhumane treatment of abducted political analysts/leaders, human rights and peace activists, journalists, moderators and philosophers, recruitment of child solider among refugees outside South Sudan in East Africa, including IDPs. The civil war has increased the corruption cartels such as stealing and looting of civilians' property, heads of cattle, goats, sheep, chickens, and destruction of agricultural farms and foods items. There has been forced adoption and transfer of a group of children to other groups. What is mentioned above amounts to war crimes and crimes against humanity. Below are things that fall under the mentioned points, the selective killings, murder and assassinations of political and potentials youths activists just based on their association to the groups or tribes is punishable under international law.
This war and its effects on girl-child population in South Sudan, has increased early pregnancies, rap e cases and lack of proper care, they end up dying during child labour. There is inhumane torture of little boys under the age of five, removing organs such as eyes or castration. Currently, there is an ongoing humanitarian crisis fueled by warring factions using inhuman warfare tactics in preventing aid workers from transporting food aid to the needy people. The elderly people are dying of hunger and famine is getting worse while some civilians are trapped in their villages and there are no roads to use in taking foods items to the needy group.
The author can be reached at yombul2015@gmail.com
The views expressed in 'opinion' articles published by Radio Tamazuj are solely those of the writer. The veracity of any claims made are the responsibility of the author, not Radio Tamazuj.