BY Wuor Chuol Both -
28 Aug 2018
Opinion: Expect no viable peace in South Sudan with IGAD leaders as its brokers and guarantors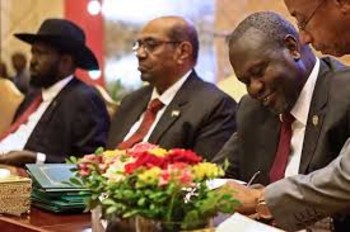 The IGAD, an East African regional integration-inspired organization premised on Chapter VII of the United Nations, was mandated to mediate South Sudan conflict immediately after the war broke out in December 2013 with the hope that it will bring peace and stability back to the country. However, five years later down the line, IGAD had not been able to deliver any cogent solution to the conflict. Instead they have been trying to reward/maintain South Sudanese elites with powers/positions with neither addressing the root cause of the conflict nor establishing due process of justice for victims of war and abuse of power. IGAD leaders decide to put 'blind eyes' to the predicaments of violent conflict; killing and maiming of innocent people, desolation of towns/villages and economic turmoil experienced in South Sudan for the last five years. The national interests each of the mediators (IGAD leaders) has in South Sudan and the fact that the current South Sudanese elites do not have the country at heart, has been and will continue to make it hard to have viable peace in the country.
National interests IGAD leaders want to achieve in fragile South Sudan
It is proven beyond no doubt that IGAD leaders see some opportunities to explore when South Sudan is at war with itself. Ugandan cruel despot, Yoweri Museveni who is known as a beneficiary of 'dirty deals' in the region, has been in support of Salva Kiir and continues supporting him. Immediately when war broke out in December 2013, Museveni intervened militarily on Salva Kiir's side and when peace talks began in Addis Ababa, Ethiopia, he was in forefront in support of status quo in Juba. The support Museveni gave and continues giving to Salva Kiir in all fronts in this conflict was/is not for free and for it to be more profitable to him, South Sudan must remain unstable with Salva Kiir as a president who will always seek help/support from Ugandan government. Apart from Museveni's interest, some Ugandan nationals also have economic interests to achieve in these confusing times in South Sudan. For instance, those of them who invested in small businesses and those who work at NGOs sector at various capacities in South Sudan see continuation of the war to be a suitable ground for their work.
Kenya, Ethiopia and Eritrea are considered or rather considered themselves to be main investors in various sectors of South Sudan's economy. Kenya's economic interest in South Sudan is heavily on air transport industry, banking, insurance and NGOs sectors. Ethiopia and Eritrea are the main players/investors in South Sudan's hospitality industry and other small businesses. Therefore, for these countries to continue dominating South Sudan's economy, their only way out is to sabotage the peace process or make sure that South Sudan remains unstable with insubstantial government, and this is exactly what they have been doing for the last five years. They realize that unstable South Sudan with insubstantial government means that South Sudanese will not have time or resources to take charge of their own economy (buying their own airlines, building their own hospitality and banking industries). Currently, the most lucrative business in Juba is hospitality industry which is mainly own by Ethiopians and Eritreans. This kind of business is excelling since almost 80% of the working class in Juba stays in hotels either due to high level of insecurities or they are not able to build their own homes/their homes were destroyed because of the crisis. The other sector in South Sudan with serious economic interests these countries have, more specifically Kenya, Ethiopia and Uganda, is the NGOs sector. NGOs sector which is now fundamentally important actor in delivering humanitarian services to the most vulnerable South Sudanese has been seen by these countries as source of employment for their citizens who are now running the affairs of these organizations at the expense of qualified South Sudanese who could take charge if there was substantive government with specific policies and procedures on how to hire foreign employees while protecting nationals.
Sudan is another member of IGAD with interest in South Sudan. The main interest Sudan has in South Sudan is on territory disputes. The issues to do with international border between Sudan and South Sudan were to be discussed in 2011 immediately after secession. However, because of the conflict in South Sudan none of these issues (border demarcation and Abyei's final status) had materialized. This is because the main focus of Salva Kiir's government for the last five years has been on how to crush its insurgencies, not to discuss or resolve outstanding issues to do with border demarcation and Abyei's status. In the light of this, Sudan would be the last country to contribute positively on what will make South Sudan a stable country. The other interest Sudan has in South Sudan is on the hope that, a very long civil war in South Sudan may lead to international community reconsidering reunification of the two countries (South Sudan and Sudan). If one was to remember the words Arabs (Sudanese) were using to campaign against South Sudan's independent, you will find that, they were saying that South Sudanese cannot be given their country because they won't be able to rule themselves. Accordingly, a very long civil war in South Sudan or a complete disintegrated South Sudan is what Sudan may want so as to prove right what they said in 2011 when they were campaigning against South Sudan's independent.
The 'Dead' 2015 Addis Ababa Peace Agreement
On 17 August 2015 in Addis Ababa, Ethiopia and 26 August 2015 in Juba, South Sudan, the then, First Vice President Riek Machar who is now a Designate First Vice President in the 2018 Khartoum Peace Agreement and President Salva Kiir respectively signed a peace pact – the Agreement on the Resolution of the Conflict in the Republic of South Sudan (ARCSS) with the hope that peace and stability would be restored in South Sudan. This ARCSS was a brainchild of IGAD with its leaders as its brokers and guarantors. In that signed peace agreement, the two warring parties, the Sudan People's Liberation Movement and Army in Government (SPLM/A-IG) and SPLM/A in Opposition (SPLM/A-IO) were to come together in Juba, South Sudan, form a Transitional Government of National Unity (TGoNU) which was formed on 29 April 2016 and thereafter, was supposed to be followed by the implementation of other details in the agreement. The implementation of such details did not happen because of the July 2016 fighting which completely killed the 2015 Addis Ababa Peace Agreement.
The blame on the 2015 Addis Ababa Peace Agreement failure is entirely on IGAD although, we know very well there were some South Sudanese elites who were responsible for the July 2016 fighting. My candid opinion on as to why I am blaming IGAD leaders who were brokers and guarantors for the 'dead' 2015 Addis Ababa peace agreement is that, these guys failed to put in place what should have obligated the warring parties to implement the peace agreement. These brokers and guarantors of the 'dead' 2015 Addis Ababa Peace Agreement put more focuses on how to reward the South Sudanese elites with positions. They put less focus on enforcing compliance simply because their intention for such peace agreement was not to store peace and stability in South Sudan but to prolong the conflict. In the peace agreement it was proposed that Juba was to be demilitarized, all forces to be stationed 25 km away from Juba before the implementation starts but none of these was done. The other most important thing these IGAD leaders could have focused on if they were for the success of such peace agreement was to put in place punitive measures inform of sanctions, travel ban and freezing of the assets for the saboteurs of the peace agreement. Whenever, UN/USA tries to implement sanctions and travel ban on South Sudanese who were/are known to be saboteurs of peace in South Sudan, IGAD leaders are always on forefront opposing it. For example, on June 2018, United States instructed Kenyan government to seize the properties of South Sudanese leaders that were allegedly bought with proceeds from corruption, money laundering and war profits, Kenyan government rejected such instruction with totality.
Now it is one year and a month since July 2016 fighting which led to the complete failure of ARCSS and up to now still there is no single person held accountable. In this period war continues, innocent South Sudanese went through all sorts of predicaments of violent conflict again in the full glare of these so call IGAD leaders who were the brokers and guarantors of ARCSS with no action taken to contain the situation by any of them. Now they are talking about restoring peace and stability in South Sudan through the 2018 Khartoum Peace Agreement with the very same South Sudanese elites as its implementers, using the very same modalities they were to use in the implementation of The 'Dead' 2015 Addis Ababa Peace Agreement.
The 2018 Khartoum Peace Agreement
The details of 2018 Khartoum Peace Agreement were basically supposed to be the same as those in the 2015 Addis Ababa Peace Agreement since the collapse of the former was more of enforcing compliance. Instead of effecting some changes/strengthen enforcing compliance; these IGAD leaders are now incorporating other elements in to it. The new components they now incorporated are; (1) number of vice presidents has been increased from two to five, (2) number of ministries increased from 30 to 35, (3) number of MPs increased from 400 to 550 and (4) number of states increased from 10 to 32. All these components they incorporated in to the 2018 Khartoum Peace Agreement are not meant to solve the conflict but to complicate it further. Therefore, what these guys need to understand is that, the conflict South Sudanese are now in has nothing to do with the number of states, number of MPs or number of ministries. The cause of this conflict has its roots back on December 2013 fighting which has to be addressed first; otherwise, a peace agreement which focus more on positions will be regarded as an agreement which reward violence with political power.
Another funny thing about this 2018 Khartoum Peace Agreement is the fact that, its negotiation process was initiated because of the pressure put on IGAD leaders by UN Security council. The Council stated that, 'the suffering of South Sudan's civilians has been on for long and it is high time we address it'. On account of that, in early June 2018, IGAD leaders were told to find a solution in to South Sudan civil war before June 30th 2018, failure to which AU may take over the peace negotiation process. So for IGAD leaders to halt AU from taking over South Sudan peace process, they now designed this 2018 Khartoum Peace Agreement. This 2018 Khartoum Peace Agreement is very fragile and it is likely to collapse given the fact that it does not address the root cause of the conflict, it is not committed to pursue individual accountability for the war crimes committed and it does not put in place a well stipulated enforcing compliance.
The Only way forward
For a viable peace agreement to be reached for South Sudan's conflict, there are three important things IGAD leaders and South Sudanese elites need to have in mind. Firstly, South Sudan is one country with citizens who deserve to live peacefully like citizens of any other country on the earth. Secondly, leaders always come and go but the country remains, so you need not to destroy South Sudan in the name of maintaining/gaining power for your own selfish interest. Thirdly, the conflict we are talking about in South Sudan is an internal conflict which ought to be resolved with 'good agreement' since these people who are now fighting each other are likely to live again in the same cities/towns when peace comes.
The peace agreement South Sudan needs to resolve this conflict with, should be negotiated by brokers and guarantors who have to remain impartial and guide by the above three things mentioned in this paper. Likewise, the South Sudanese elites have to consider these three things in mind when negotiating for peace and more importantly, they need to understand that South Sudan, the country they purport to rule is now a laughing stock in the region or in the world simply because they refuse to see the suffering their fellow citizens are going through and the fact that they are now enriching the IGAD leaders and their citizens with South Sudan's resources in the name of maintaining power. Therefore, if all these are put in to consideration by both peace mediators and the South Sudanese elites, it is possible that a comprehensive peace agreement with well stipulated enforcing compliance which commits the warring parties to end the war and to start building peace with justice (peace agreement committed to bring justice to the victims of the war) can be reached.
Such peace agreement should provide for the creation of a peace implementation force which should either be under the command of United Nations Mission in South Sudan (UNMISS) currently operating in South Sudan as peace keeping mission or under the command of strong regional force. Such peace implementation force should be tasked with monitoring the ceasefire and separation of forces as well as controlling of big cities. The peace agreement should also commit IGAD leaders to implement the punitive measures (sanctions, travel ban and freezing of the assets) for South Sudanese elites who may be obstructing the implementation of the peace agreement.
The author, Wuor Chuol Both, is a South Sudanese Economist/Statistician. He can be reached via his email address: wuorboth@gmail.com
The views expressed in 'opinion' articles published by Radio Tamazuj are solely those of the writer. The veracity of any claims made are the responsibility of the author, not Radio Tamazuj.