By Deng Lual DeNuun -
24 Jun 2015
Opinion: Congratulations to health workers eradicating Guinea worm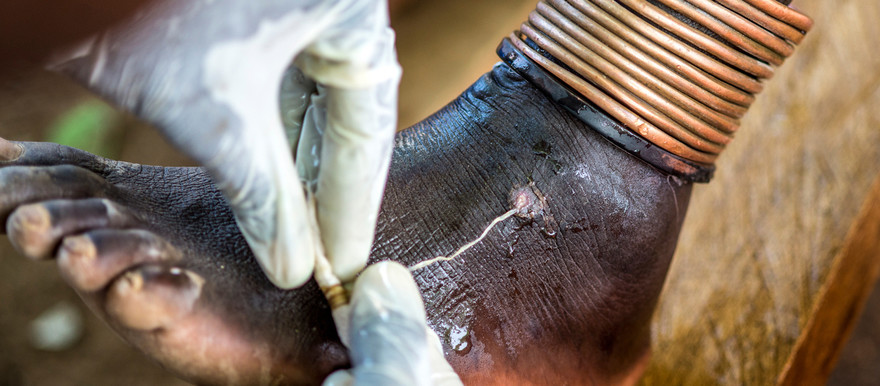 The author is a former Program Officer for the South Sudan Guinea Worm Eradication Programme supported by the Carter Center and a current university student. He hails the recent progress in defeating Guinea worm disease in South Sudan, praising those who helped in the effort.
South Sudan has gone for seven months Guinea worm free, according to a recent statement from the health ministry undersecretary Dr. Makur Matur Koriom. War aside, this is a good news after the most endemic country South Sudan registered only 70 cases of the Guinea Worm Disease (GWD) in 2014 annual figures compared to 113 cases reported in 2013. Since the ancient times guinea worm disease is regarded as one of the world's most terrifying ailments.
Guinea worm disease is a parasitic infection caused by the nematode (roundworm) parasite Dracunculusias medenisis. It is contracted when people ingest drinking water from stagnant sources containing copepod/water flea that harbor the infective Guinea worm larvae release into the water sources by a person with a hanging worm. GWD grow up to a yard long (1 meter) inside the human body creating an agonizingly painful lesion on the skin and slowly poke out through the skin causing excruciating pains and hence must be pulled out with care.
Furthermore, GWD is preventable by using a fine nylon filter to strain the water flea from drinking water and through health education to keep infected people from entering water sources. Its secondary measures to prevent include applying a safe chemical larvacide to kill the copepods and finally drilling boreholes to supply safe drinking water.
Interventions, Health Education
Guinea worm disease cripples endemic communities making children unable walk to school or tend to goats and farmers too ill to till the soil hence leads to poverty. Poverty seldom gets more degrading than when people are forced to drink from the same muddy ponds as livestock and wild animals. This has been a common scene in the rural communities in South Sudan where many are still plagued by this disease.
There is nothing more noble than service to others in favor for humanity, thanks to the great work since 1986 through the leadership of the former US President Jimmy Carter under the Carter Center that has spearheaded the International Guinea worm eradication campaign working with partners and the endemic countries' ministry of health. With such total commitment and the influence by the former US President to execute its obligation has really impacted on achieving the goal to eradicating one of the neglected tropical disease, influencing leaders to provide necessary support has been of a value to the success which has been answered by the tireless efforts by the programme managers in the field. Great thumb up to the donors for their continuous generosity to raising funds and help the vulnerable communities.
Eventually, I'm on a cloud nine to express my great honor and privileged to have worked in this capacity with different communities of vast background and in a country once devastated by civil wars, contributing to rebuilding and its reconstruction. Working in communities and with people in South Sudan and from other parts of the world to strengthening communities in making history and change lives under most difficult circumstances in the remotest villages with no roads, only path carved by villagers/hunters as the major highways.
Bright shining moonlight as source of light at night and no network for communication and finally with the toughest mosquitoes in the world. However, no doubt to express that people can ameliorate on their living when they are provided with the necessary skills, knowledge and resources, and in regards to this, the author is honored to have participated in this triumph along with thousands of volunteers in South Sudan in treating, managing/controlling and teaching communities to help strengthen and eradicate the disease and make history together.
Indeed, volunteers are worth than the twenty praised men. It's my optimistic hope that one day villagers of Nanyagachor boma of Kapoeta East County in Eastern Equatoria State and villagers of Abuyong payam of Awerial County in Lakes State and South Sudan in general shall go ululating and giggling in happiness celebrating the lifted burden of vulnerability from Guinea Worms Disease.
Photo: A health worker extracts a Guinea worm from a person's foot in Eastern Equatoria (Courtesy/Carter Center)
The views expressed in 'opinion' articles published by Radio Tamazuj are solely those of the writer. The veracity of any claims made are the responsibility of the author, not Radio Tamazuj.