Oil ministry takes baby born with congenital malformation for medical checks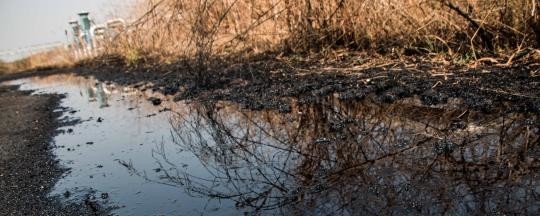 File photo: Oil spill in Thar Jath, Unity state, 2015
South Sudan's oil ministry has taken a baby born with congenital malformation in oil-rich Ruweng State for medical checks abroad, a local official said.
The baby was born earlier this month at Pariang Hospital with one leg and six fingers. The family hails from Wunkur County.
The State Minister of Health, Simon Chol Malith, told Radio Tamazuj on Monday that the ministry of petroleum and oil companies operating in the state took the baby for medical check-up in Kenya last week.
"The baby and the mother have been taken for treatment abroad. The ministry of petroleum is sponsoring the treatment of the baby," he said.
Chol pointed out that doctors will determine associated factors of the congenital malformation. "Doctors will know whether it was caused by environmental pollution or not. Sometimes the exact cause of congenital malformation is genetic or normal," he said.
The official hinted that oil residues could be the main cause of such cases, stressing that it must be proven scientifically so that oil companies can put an end to these problems.
The state minister noted that health problems reported in the state include premature births, miscarriages, skin allergies and congenital malformation among newborn children.
Previous studies have shown direct links between oil operations and groundwater contamination which could affect human and animal health.